I don't think of myself as a chocoholic and I can go months without having chocolate at all. But then the need hits me and I get through a lot in short period.
I rarely eat chocolate bars but often use it in my baking. Take a look at my first ever attempt at chocolate brownies

Or maybe white chocolate is your thing. I made a white choc and blueberry mousse this summer, a perfect mix of sweetness and sharpness!
  
Need a picnic treat? These

mocha tarts

were so special and I was gutted that the coffee flavour didn't scare of the kids so I had to share them 🙁

Six months ago I was lucky enough to go to a chocolate workshop and had a BRILLIANT time! The chocolate was pretty amazing and I did it all myself!

Finally, this year I have overcome my fear of eating raw egg white in a mousse and it was YUM!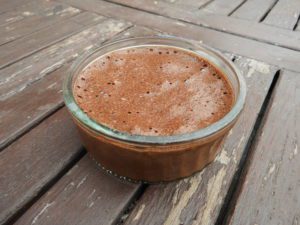 What is your favourite chocolate treat or recipe? Let me know in the comments!