Last week

for Anya's sports day I needed some picnic food that I could take with me so decided to experiment!
I tweaked my chocolate ganache recipe to include coffee and created these mocha tarts. The coffee taste is quite subtle so the kids also enjoyed them.
Ingredients
4oz plain flour
2oz hard marge or butter
1 egg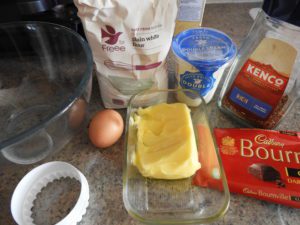 125 ml double cream
2 tbsp golden caster sugar
125 g dark chocolate, broken up
2 tbsp strong coffee
Method
1 Rub the butter into the flour until it resembles breadcrumbs.
2 Add the egg and bring together to form a dough. Add a splash of water if required (gluten free flours absorb more liquid)
3. Roll out the pastry and cut out 12 rounds. Place in a tin and lightly prick each base.
4. Bake for 10 minutes at GM5 or until golden brown. Leave to cool.
5. Heat the cream and the sugar in a small pan until it simmers.
6. Remove from the heat and add the chopped chocolate. Let the chocolate melt a little, then stir until smooth.
7 Add the coffee to the pan and stir.
8 Pour the chocolate mixture into a jug or carefully spoon into the pastry cases.
9 Chill in the fridge for 2 hours until set.
I had some chocolate coffee beans in the cupboard so pressed them in to the top of the tarts after half an hour of chilling. You could also use chocolate curls, strands or sprinkles.
The filling can be eaten on its own as a dessert or check out my

chocolate mousse

recipe here.