One of the highlights of blogging has been the broadening of my horizons and the challenge to try new things. As I showed yesterday for

My Sunday Photo
,

this weekend I have attended a chocolate workshop, something I never would have tried due a lack of confidence in myself and my ability!
I was invited by a local blogger who I'd met at the Lexicon opening six months ago and I jumped at the chance as I want to explore the local area and support local businesses.
Chocolates for Chocoholics

is a family based business in Berkshire with distributors all around the UK. The range of chocolates has something for everyone and the prices are very reasonable! This year they have also introduced chocolate workshops to encourage normal people like me to have a go under the expert guidance of a chocalatier. These are a perfect option for groups such as  corporate team building or hen parties. Or chocolate loving bloggers!
I'm still struggling with vertigo but luckily most of the workshop can be done sitting down. We were given an apron to protect our clothes and a hot chocolate 🙂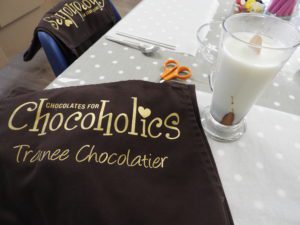 The workshop began with information on cocoa's journey from bean to bar. We were warned to take notes as we would be quizzed later and a prize was up for grabs!
Then we began to make ganache truffle balls. The ganache was already prepared for us but we were given the recpe so that we could make it at home ourselves. The balls were put in the fridge to firm up ready for coating later on.
We had our first experience of the chocolate tempering machine which keeps the chocolate at the perfect temperature to ensure the best taste, texture and melt in the mouth deliciousness! We piped lollipops and added flavours (I used hundreds and thousands on one and salted caramel on the other). We were then encouraged to write our names: I am suddenly grateful to my parents for giving me a name that joins up nicely!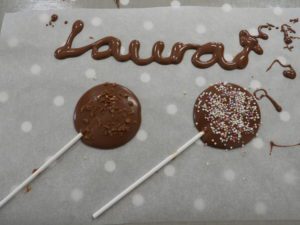 Next was chocolate bars. We were warned that it gets messy! And it did! But then we chose our favourite ingredients to add, yum!
Next the dreaded quiz! We actually had a lot of chat amongst ourselves about some of the questions which were really tricky 🙂 We all scored well and shared top marks, yay!
Our final part was the completion of the truffles. First they needed to be double dipped in chocolate and then either left plain, covered in cocoa or hedgehogged to make them spiky. We were given a choice of ribbon to make our treats look even more fab!
Finally we were presented with a certificate! (Photo courtesy of Chocolates for Chocoholics Insta stories)
I gallantly shared my chocolate creations with my children, parents and Chris. They were all suitably impressed with my efforts and the delicious chocolate taste.
Thank you so much to Chocolate for Chocoholics for such a fun and informative morning! I am currently investigating the chocs for

wedding favours

for August…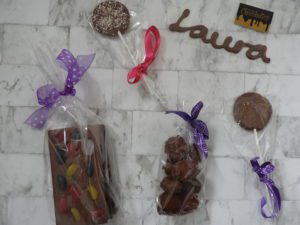 I was invited to attend this blogger event but I was not asked to share my experience or promote the company. All opinions are my own.