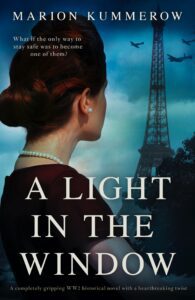 Margarete is a Jewish maid working for a high ranking Nazi. The house is bombed and her employers are killed. Margarete seizes the chance for a new life and swaps clothes with the dead daughter of the house, leaving her Jewish identification behind. She feels safe until Wilhelm Huber, her employers' son arrives from Paris, searching for his sister to claim their inheritance…
A Light in the Window in an historical novel set in 1941 in Germany and France.
OK so this was a beautifully tragic book but does not offer a full conclusion: there will be a sequel! I loved the characters, the plot was wonderfully captivating although I doubted the realism. I thought the research into the lives and fears under Nazi rule was accurate. However, I did have to suspend my disbelief about the relationship between the main characters. The book overall was completely enthralling and the dramatic licence was creative, entertaining and emotive.
The whole of the book is delivered through the third person narrative perspectives of Margarete and Wilhelm. The mixed emotions from both characters are well written and fully explored to make both seem very human. Margarete shows amazing courage and daring as she adopts her new identity. Her determination to survive is inspiring. The nuances of Wilhelm's realisation that the Nazi stance on Jews is not accurate is delicately handled.
A beautiful love story ensues. Both Wilhelm and Margarete struggle against the Nazi ideology which governs their lives. Both are in danger and risk death. I didn't realise that there would be a sequel so the plot does not wrap up everything but does come to a major turning point following a dramatic and tragic twist.
A Light in the Window was a joy to read for an historical fiction fan. I have previously reviewed Not Without My Sister by Marion Kummerow.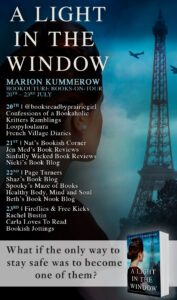 A Light in the Window book description:
Margarete stumbles out of the bombed-out house, the dust settling around her like snow. Mistaking her for the dead officer's daughter, a guard rushes over to gently ask her if she is all right and whether there's anything he can do to help her. She glances down at where the hated yellow star had once been, and with barely a pause, she replies "Yes".
Berlin, 1941: Margarete Rosenbaum is working as a housemaid for a senior Nazi officer when his house is bombed, leaving her the only survivor. But when she's mistaken for his daughter in the aftermath of the blast, Margarete knows she can make a bid for freedom…
Issued with temporary papers—and with the freedom of not being seen as Jewish—a few hours are all she needs to escape to relative safety. That is, until her former employer's son, SS officer Wilhelm Huber, tracks her down.
But strangely he doesn't reveal her true identity right away. Instead he insists she comes and lives with him in Paris, and seems determined to keep her hidden. His only condition: she must continue to pretend to be his sister. Because whoever would suspect a Nazi girl of secretly being a Jew?
His plan seems impossible, and Margarete is terrified they might be found out, not to mention worried about what Wilhelm might want in return. But as the Nazis start rounding up Jews in Paris and the Résistance steps up its activities, putting everyone who opposes the regime in peril, she realizes staying hidden in plain sight may be her only chance of survival…
Can Margarete trust a Nazi officer with the only things she has left though… her safety, her life, even her heart?
A totally heartbreaking and unputdownable story about how far someone would go to save one life, that fans of The Tattooist of Auschwitz, The Nightingale and All the Light We Cannot See will adore.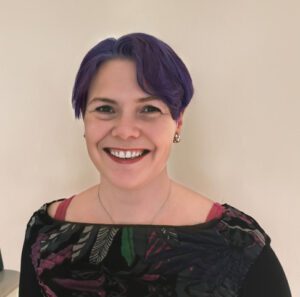 Author Bio:
Marion Kummerow was born and raised in Germany, before she set out to "discover the world" and lived in various countries. In 1999 she returned to Germany and settled down in Munich where she's now living with her family.
Inspired by the true story about her grandparents, who belonged to the German resistance and fought against the Nazi regime, she started writing historical fiction, set during World War II. Her books are filled with raw emotions, fierce loyalty and resilience. She loves to put her characters through the mangle, making them reach deep within to find the strength to face moral dilemma, take difficult decisions or fight for what is right. And she never forgets to include humor and undying love in her books, because ultimately love is what makes the world go round.
Buy Links: