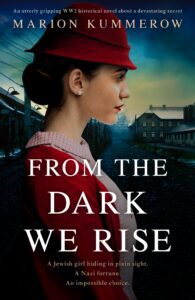 Germany, 1942 and Annegret Huber arrives at her country home to recover from the grief at the deaths of her parents and brothers. Except Annegret really died in a bombing and her identity was taken by their Jewish servant Margarete…
From The Dark We Rise is the sequel to A Light In The Window which I have reviewed previously. The plot follows on directly from the last book but there is enough information to catch up if you haven't read it.
There is a huge tension in the book as Margarete struggles to maintain the pretence that she is not a Jew but a wealthy woman with Nazi sympathies. This is heightened when she discovers a munitions factory that she owns is using and mistreating workers from concentration camps. She is determined to save as many people as possible but is she risking too much?
Margarete needs to work relentlessly to keep her true identity secret and hide the truth from those the real Annegret mistreated in the past. This contrasts with a softness towards her maid Dora and concentration camp escapee Lena. However a young Annegret made an enemy of Oliver who works on the estate and he is detemined to get revenge for being treated unkindly in the past and this is threatening to Margarete's safety.
I like the way that the author conveys the brutality of the Nazi regime with a degree of separation. However, the spectre of death and fear is ever-present for Margarete. This creates a dark tone within the novel yet the light of Margarete's choice to survive and save others twinkles with hope. Some of the information such as Lena's experiences are told unflinchingly in contrast with the Nazis' dismissal of their treatment of the persecuted.
From The Dark We Rise is an often tense but hugely gripping historical novel. I eagerly await the next book in the series. I have previously reviewed Not Without My Sister by Marion Kummerow.

From The Dark We Rise book description:
"Please, let me help. I won't tell anyone." It was madness to help an escaped prisoner in Nazi Germany, but how could she not? If it weren't for a lucky strike of fate, she might be the woman on the ground shivering with fear. A light of hope entered the prisoner's eyes and she knew what she had to do…
1942, Germany: When a young woman calling herself Annegret Huber unexpectedly inherits a huge fortune, including a house and factory just outside Berlin, her first thought is to try to see out the war quietly, avoiding the Gestapo and SS as best she can.
No one needs to know her dark secret. She must focus on staying hidden. Because she can't risk being exposed for who she truly is. Not really Annegret. But a girl living a secret life. A girl who was once called Margarete.
But then an encounter with an escaped prisoner changes everything, as Margarete discovers what is happening at the factory and its attached labor camp. Witnessing first-hand the suffering of prisoners—shivering, with faces gaunt from hunger, as they work in brutal and cruel conditions—she realises she must act.
If she can save just one life, she knows she has to. Because the truth is that Margarete resembles the prisoners in the camp in ways she daren't admit. And on the other side of the fence, she has seen a face that is achingly familiar…
An absolutely gripping and devastating story, perfect for fans of The Tattooist of Auschwitz, All the Light We Cannot See, and My Name is Eva.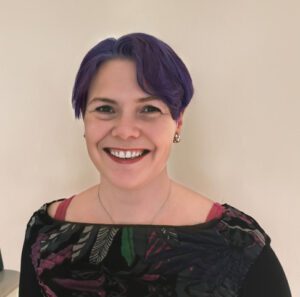 Author Bio:
Marion Kummerow was born and raised in Germany, before she set out to "discover the world" and lived in various countries. In 1999 she returned to Germany and settled down in Munich where she's now living with her family.
Inspired by the true story about her grandparents, who belonged to the German resistance and fought against the Nazi regime, she started writing historical fiction, set during World War II. Her books are filled with raw emotions, fierce loyalty and resilience. She loves to put her characters through the mangle, making them reach deep within to find the strength to face moral dilemma, take difficult decisions or fight for what is right. And she never forgets to include humor and undying love in her books, because ultimately love is what makes the world go round.
Buy Links:
Audio Links: