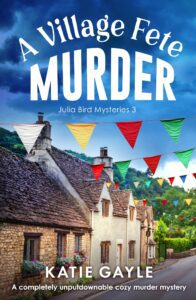 Julia's entry into the village baking competition is overshadowed when she discovers a dead body in the maze! Was the victim killed due to her cake baking or was there a darker motive?
A Village Fete Murder is the third book in the Julia Bird series but it is the first book that I have read so it works as a stand alone novel.
Julia is an older woman who has retired. She has moved to the countryside and has a new romantic interest in the form of Sean. They are ably assisted in their sleuthing by her dog Jake (I always love the inclusion of a canine character!) Meanwhile their efforts are both helpful to the local police yet unwanted as they are against protocol.
This book falls firmly into the cosy murder mystery genre. It has a traditional feel to it due to the setting and characters. There is little violence or forensic detail so the focus is on Julia's investigation into the motives and opportunities of a range of suspects. My guesses about 'whodunnit' were repeatedly changed due to plenty of twists and misdirection as the plot unfolds.
I have read other books by these authors and love the warmth and humour of their writing. Their characters are always very human with flaws and vulnerabilities that endear them to the reader and Julia is no exception. I now need to catch up on the first two books in the series!
A Village Fete Murder is an enjoyable cosy murder mystery.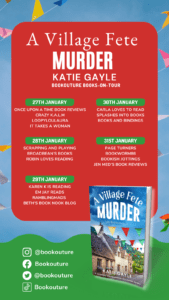 Book Description:
Julia Bird can't wait to attend the annual village party at the local stately home, with its tea tents, cake stalls, and… dead body in the maze?
The annual village celebration at Berrywick House is underway, complete with over-decorated cake stalls, fiercely contested flower competitions, and even a maze for the disappointed losers to hide in. Julia Bird, now a well-known – even notorious – member of the community, with her trusty Labrador Jake, has thrown herself headlong into the festivities. But her reputation for adding drama to any event stands up yet again when she discovers a dead body in the maze…
It seems Ursula Benjamin, village know-it-all and prickly baking competition participant, has been strangled – and the killer has to be someone at the fete. As Julia grapples with finding yet another murder in Berrywick, she starts to wonder, could one of the competitive cake-bakers have taken the contest to deadly new heights? Or is there something darker in Ursula's life that led to her untimely demise?
Embroiled once again in a murder enquiry, Julia isn't about to leave the investigation to the police. Like it or not, she's involved, and she's going to help them solve the mystery. But when there's another death, and it's clear the murders aren't isolated incidents, the stakes become even higher. Can Julia figure out the identity of the killer, and prevent any further dastardly deeds, before the wholesome spirit of the village is ruined forever?
If you like utterly gripping English mysteries, then you'll love A Village Fete Murder. Perfect for fans of M.C. Beaton, Faith Martin and Betty Rowlands.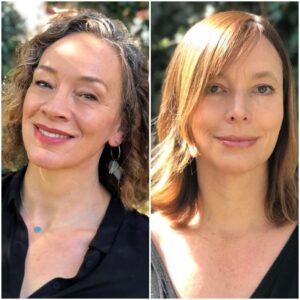 Author Bio:
Katie Gayle is the writing partnership of best-selling South African writers, Kate Sidley and Gail Schimmel. Kate and Gail have, between them, written over ten books of various genres, but with Katie Gayle, they both make their debut in the cozy mystery genre. Both Gail and Kate live in Johannesburg, with husbands, children, dogs and cats. Unlike their sleuth Epiphany Bloom, neither of them have ever stolen a cat from the vet.
Buy Link:
You can sign up for all the best Bookouture deals you'll love at: http://ow.ly/Fkiz30lnzdo