Nine years ago Geoffrey's business partner Alan died after falling off a cliff on the Greek island of Galanikos. In the present day, Geoffrey is found injured at the bottom of the same cliffs. Were both men pushed and why…?
The narrative style of After the Accident is totally unique and brilliant. I wasn't sure how it would work out at the start but it is absolutely fab! The narrative is delivered in an interview style with each character describing events in their own words and then others jumping in with their version which might agree or disagree. This led to humorous moments when people said one thing and were immediately contradicted. It was completely fascinating to read.
At the heart of this book is the mystery of who killed Alan and attempted to kill Geoffrey. But the answer can never be straightforward as we rely on skewed viewpoints and outright lies.
The whole book is character led as we explore possible motives and events through the perspectives of each person. Due to the style of narrative, there is little description but I didn't feel that I was missing out as the way the characters decribe their surroundings and the others is sufficient ('gluttonous turnip'!)
Geoffrey's daughter Emma is the lead character. We discover that she has an awkward relationship with her family and has been in prison but we do not find out why until halfway through the book. We see how the other characters judge her and try to undermine her version of events.
After the Accident really is very cleverly written and soooo enjoyable. The style is unusual but is outstandingly effective. Amazing job Kerry!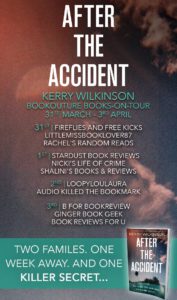 Title:  After the Accident
PUBLICATION DAY: 31/03/2020
Author: 
Kerry
Wilkinson
Buy Links:  
Description:
Under a cloudless Mediterranean sky, two families wheel their suitcases past swaying palm trees towards their hotel to grab a spot by the pool. But behind the smiles, someone is hiding a terrible secret…
I never wanted to come on this trip. I thought the accident had torn us apart forever, but then my mother called out of the blue, wanting to make amends. So here we are, two families on a beautiful island, sipping sangria like nothing ever happened.
My parents' oldest friend, Daniel, was invited too – I've never trusted him, and now he brings up my past mistake every chance he gets. And why does his son, Victor, keep disappearing off on his own?
Even my brother's here, with his twins. It's amazing to see my nieces playing happily in the pool. After what happened at home, it still hurts me to be around the girls, but more so that my brother doesn't trust me alone with them.
Despite everything, it's going surprisingly well – everyone forcing a smile at the dinner table, laughing at the twins' antics – until the night my father is attacked on the beach, left for dead on the sand.
As always, all fingers point to me, but this time I know for certain that I'm innocent. And if I'm not guilty, someone else on this holiday is…
A unique and totally gripping psychological thriller that will have fans of T.M. Logan and The Girl on the Train racing through the pages late into the night.
Previously titled Seven Days in July.

Author Bio:
Kerry

 

Wilkinson

 has had No.1 bestsellers in the UK, Canada, South Africa and Singapore, as well as top-five books in Australia. He has also written two top-20 thrillers in the United States.
As well as his million-selling Jessica Daniel series, 
Kerry

 has written the Silver Blackthorn trilogy – a fantasy-adventure serial for young adults – a second crime series featuring private investigator Andrew Hunter, plus numerous standalone novels. He has been published around the world in more than a dozen languages.
Originally from the county of Somerset, 
Kerry

 has spent far too long living in the north of England, picking up words like 'barm' and 'ginnel'.
When he's short of ideas, he rides his bike or bakes cakes. When he's not, he writes it all down.
Author Social 
Media

 Links: