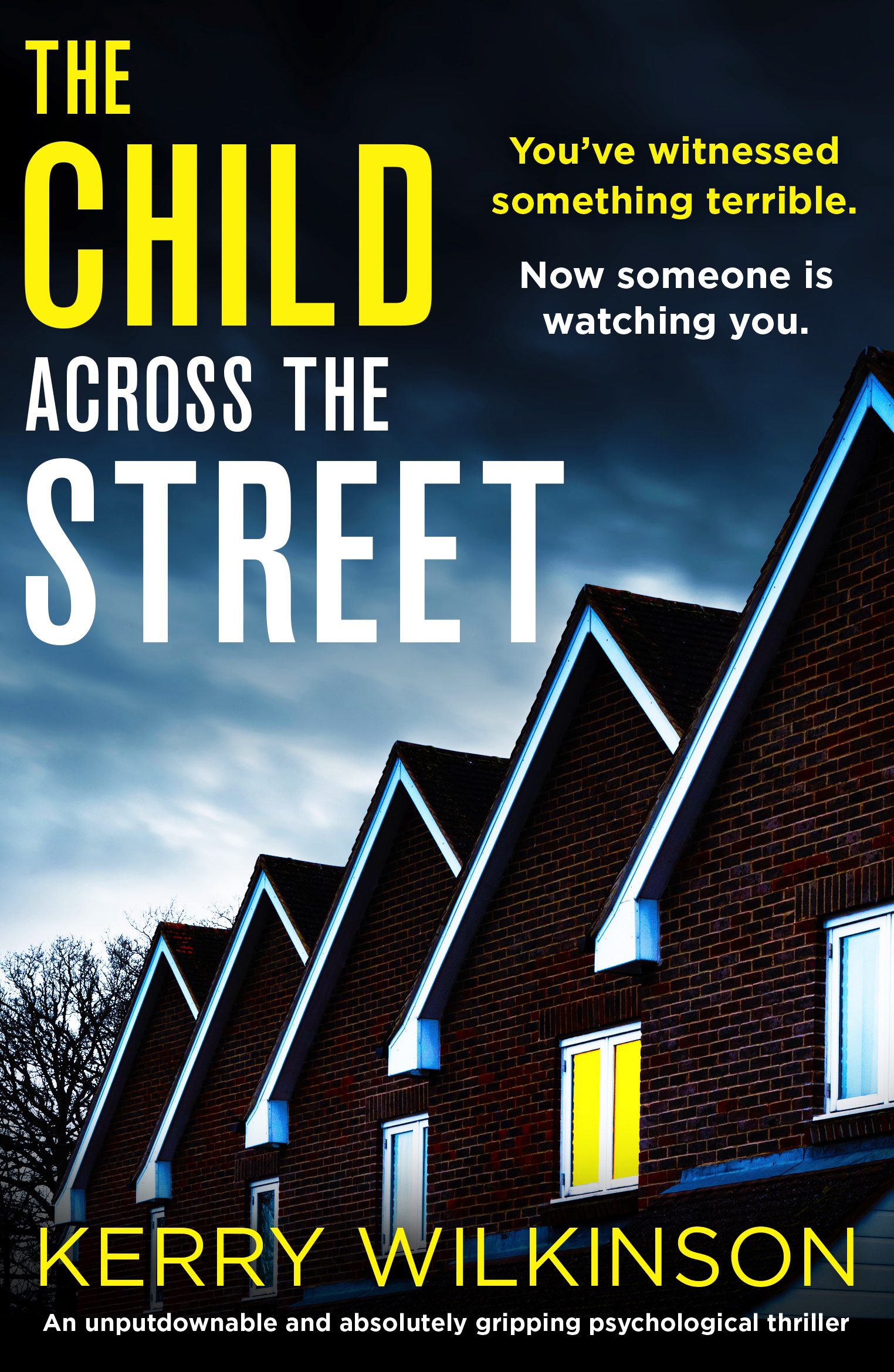 Abi arrives back in Elwood to confront her past after the death of her father. Minutes after she sets foot in her hometown, she witnesses a hit and run. The victim is her former best friend's son, 8 year old Ethan.
Abi has personal issues due to her family situation. Her mum abandoned the family and left Abi with her alcoholic father. She reunites with old friends and boyfriends but it all feels awkward as she has changed so much. Plus she is unsure of who could be responsible for injuring Ethan…
The Child Across The Street is a wonderful character study of Abi. The writing is so realistic and natural that the revelations about Abi are compelling. Hints about her unhappy relationship with her dad add to the anticipation for the reveal of the truth.
The mystery of the hit and run becomes secondary and doesn't pack a punch in the same way as the crimes or questions in Kerry Wilkinson's other books. There are plenty of suspects and suspicious behaviour to maintain interest in the accident. The human element as seen in the aftermath for Ethan's mum as she copes with his injuries and gets reacquainted with her former friend is so believable.
The style of writing is easy to read and engaging. Abi is likeable despite her flaws and the impact of her past on the present (the animosity with her parents, the secret alcoholism, her teenage friendships). We have no idea about her friends or career so this really is a snapshot of Abi's life interspersed with her memories from twenty years ago.
The Child Across The Street is an enjoyable book but doesn't quite have the wow factor that I have loved in Kerry's other books (After The Accident, Close To You,

A Face in the Crowd

).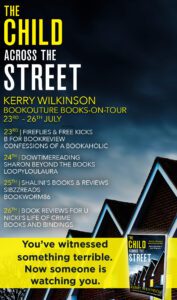 Media Pack
Title:  The Child Across The Street
PUBLICATION DAY: July 23rd 2020
Author: 
Kerry
Wilkinson
Buy Links:  
Description:
Wheeling my suitcase down the familiar, hedge-lined street, I smile at the sound of children playing in the park nearby. Suddenly, there's a screech of car brakes. I rush over to see a bent bike wheel sticking out of the ditch, and underneath, a little boy…
As I turn the rusty key in the lock of the house I grew up in, memories flood back. None of them happy. I never told anyone why I left home twenty years ago, and all I want is to sort out Dad's funeral as quickly as possible.
Now I'm trapped here, the only witness to a terrible incident that has left an eight-year-old boy fighting for his life. But after a lifetime trying to forget my past, I don't know if I can trust my memory, or be totally sure of what I saw today.
Sorting through Dad's things one night – shopping lists in his curly handwriting, piles of old newspapers, dusty sports trophies – I think I hear the back door handle rattle. I tiptoe downstairs, past an open window I'm sure I locked. And a figure darts across the overgrown garden.
Someone is watching me. Someone who knows I'm the only one who saw what happened to little Ethan… or could they know the real reason why I left? Either way, I'm certain that coming back was my biggest mistake. I can't leave, but the longer I stay, the more danger I'm in…
An utterly addictive psychological thriller that will have you glued to the pages until the early hours. Fans of The Girl on the Train and I Am Watching You won't be able to put down the next mind-blowing read from bestselling author Kerry Wilkinson.

Author Bio:
Kerry

 

Wilkinson

 has had No.1 bestsellers in the UK, Canada, South Africa and Singapore, as well as top-five books in Australia. He has also written two top-20 thrillers in the United States.
As well as his million-selling Jessica Daniel series, 
Kerry

 has written the Silver Blackthorn trilogy – a fantasy-adventure serial for young adults – a second crime series featuring private investigator Andrew Hunter, plus numerous standalone novels. He has been published around the world in more than a dozen languages.
Originally from the county of Somerset, 
Kerry

 has spent far too long living in the north of England, picking up words like 'barm' and 'ginnel'.
When he's short of ideas, he rides his bike or bakes cakes. When he's not, he writes it all down.
Author Social 
Media

 Links: