Harry is called out of the blue by his childhood friend Paige to say that their other mutual best friend Richard has been arrested for the murder of their old teacher. He hurries back to the UK and is amazed to see how much has changed. But then the friends discover the teacher's murder is being linked to the murder of a teen whose body was discovered by Harry and Richard twenty years ago…
The Blame is an intriguing thriller that centres around past and present murders. The suspense about the killings is maintained until the very end and I think it is impossible to guess!
Twenty years have passed since Harry and Richard found the body of their fellow school boy Graham. The murder was never solved and is now linked to the present day murder of a teacher. Paige and Harry are determined to prove Richard's innocence but also face their own demons.
Harry is a hugely likeable character and I think my positive feelings towards him are strengthened by the first person narrative. He is loyal to his friends but his life in Canada has nothing to keep him there following his separation from his wife. Paige is a much more troubled character, involved with drugs, pursued by dealers, estranged from her husband who just happens to be Richard's brother.
The style of writing and use of first person is instantly engaging and we are dropped straight into the plot. The pace is fast and the unfolding of events is non-stop. The characters and setting seem authentic and believable, and I thought the court procedure was portrayed realistically.
The Blame is a book full of red herrings and very entertaining.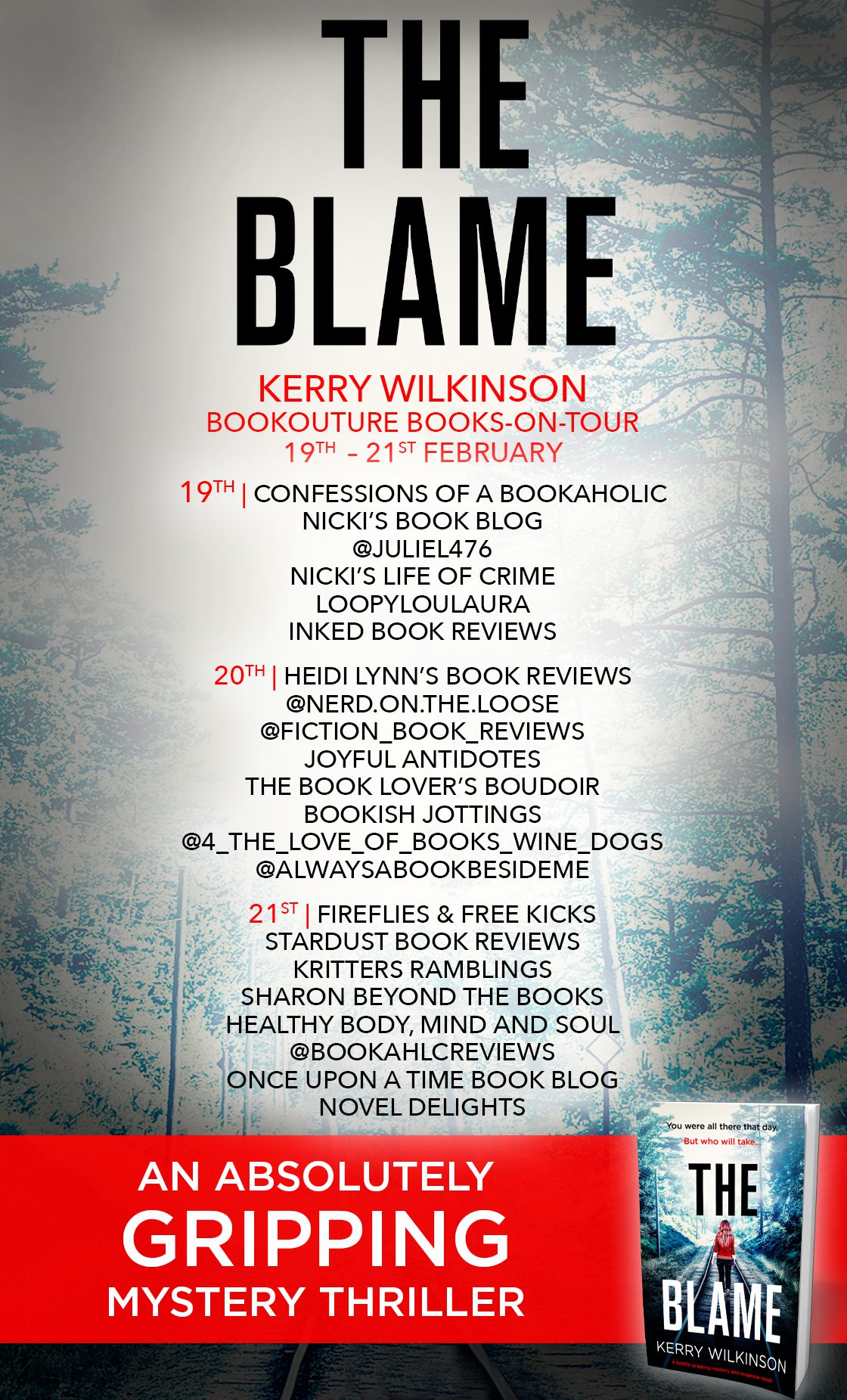 Paige, Richard and me. We thought we'd be friends forever. But everything changed the day we took the short cut home from school along the old railway line. I wish we'd gone the long way. I wish we hadn't seen our classmate, pale and still in the undergrowth. And I wish we hadn't promised to keep one, awful detail a secret just between us…
Twenty years later, I have a brand-new life, and try never to think about my old one. But I'm dragged back when Paige calls out of the blue. Richard has been accused of something terrible. Everyone back home is whispering about the body we found years ago, and saying Richard deserves to be locked up…
Before I know it, I've returned to the small town I thought I'd never see again. Paige is almost the same as I remember – jet-black hair, slender frame – but why does she seem so nervous?
Revealing the truth about what we saw that day twenty years ago could clear Richard's name… but will the blame fall on me? And can I really trust that Paige is on my side – or is she hiding her own dark secret?
When we find a strange note in Richard's flat, only one thing is for certain: someone else knows the truth too. All three of us are in danger…
A totally addictive read by bestselling author Kerry Wilkinson about how the secrets from our past will always come back to haunt us. Perfect for fans of Lisa Jewell, I Am Watching You and The Girl on the Train.
Author Bio:
Kerry Wilkinson is from the English county of Somerset but has spent far too long living in the north. It's there that he's picked up possibly made-up regional words like 'barm' and 'ginnel'. He pretends to know what they mean.
He's also been busy since turning thirty: his Jessica Daniel crime series has sold more than a million copies in the UK; he has written a fantasy-adventure trilogy for young adults; a second crime series featuring private investigator Andrew Hunter and the standalone thriller, Down Among The Dead Men.
Buy Links: