Humans are staying inside due to the pandemic and the animals decide to host their own sporting event: the Animalympics!
This children's book is written entirely in rhyme. It is actually quite lengthy which is impressive for poetry in my opinion. The ingenious merger of sports and animals is very entertaining and there is a good level of detail about the animals' behaviour and a variety of sporting knowledge.
The illustrations are beautiful and cleverly show the animals taking part in a variety of sports. The pictures really bring the words to life. Most show the animals in realistic poses (such as the bats performing martial arts and the walruses playing handball) but some animals are shown on hindlegs or in an upright stance to also be sporty.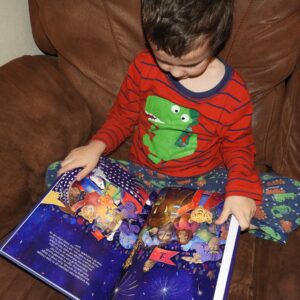 Animals are given the chance to show off their prowess, using their natural skills to compete and enjoy a celebration of all sports. I love that a wide range of land and sea animals, birds, insects and reptiles are included so I'm sure your child will spot their favourite animal taking part!
Animalympics is a warm book that will make you and your child smile. It is a clever celebration of both humans with their sporting invention, and animals with their natural abililties. Plus the author used this book to support UK zoos which have struggled during the Covid crisis as well as regularly donating book profits to children's charities.

Animalympics book blurb:
Woodpecker Will presents the Animalympics! Whilst the humans stay indoors, the animal kingdom takes over to hold the sporting event of the century! Join the golfing ostriches, trampolining moles and weight-lifting gorillas (plus many more) in a fun rhyming adventure for all ages.
Purchase Links

Author Bio –
Josie Dom is a children's author learning to embrace her individuality.
Join her in a world of imagination where anything could happen and the most important things are friendship and kindness.
Josie lives in the small town of Halstead in Essex with her husband Nic Phine (illustrator of the Lum books), their son and daughter, a mixed-up dog (LabLurchTrievOodle) Frank and a big fluffy ginger cat called Mittens.
Although Josie's books are too young for her children now, it was their love of stories when they were little which inspired Josie to pick up her pen and create.
After a lifetime in sensible office jobs, Josie is relishing the opportunity to explore her creative side.
Josie is passionate about supporting causes close to her heart.  Each year, Josie donates 15% of profit on book sales to a children's charity.
In 2020, due to Covid-19, Josie penned an Animalympics which she used to raise funds for UK zoos.

Social Media Links –
Giveaway to Win a signed copy of Animalympics, an Animalympics gold medal plus stickers and bookmarks (Open to UK only)
*Terms and Conditions –UK entries welcome.  Please enter using the Rafflecopter box below.  The winner will be selected at random via Rafflecopter from all valid entries and will be notified by Twitter and/or email. If no response is received within 7 days then Rachel's Random Resources reserves the right to select an alternative winner. Open to all entrants aged 18 or over.  Any personal data given as part of the competition entry is used for this purpose only and will not be shared with third parties, with the exception of the winners' information. This will passed to the giveaway organiser and used only for fulfilment of the prize, after which time Rachel's Random Resources will delete the data.  I am not responsible for despatch or delivery of the prize.