An estate's bad reputation deteriorates further when a cat comes home with a human foot. A body has been left rotting for weeks and Calladine is afraid that an old serial killer has returned to the streets…
Dead Real is the 12th book in Helen H. Durrant's Calladine and Bayliss series. The personal storyline continues and makes reference to events in previous books but there are no spoilers about older cases.
Things are tense on the Hobfield estate as rival gangs try to claim control. The death of Noah brings things to a head as the police investigate. But no one on the estate wants to risk their safety by talking to the police. Tom Calladine finds himself frustrated as he seems to be thwarted at every turn by characters refusing to cooperate.
On the personal front, Tom has issues with his current girlfriend Kitty. Her work premises are attacked but she also doesn't want to involve the police. Meanwhile Tom's old flame is back in town and causing him to consider his true feelings.
The case has links to a murder spree from the past whilst also having the current concern of stolen goods and gang. This provides many plot twists as the investigation progresses. My interest was maintained in the mystery of the crime aspect to the story as well as the development of the personal elements to Tom's life.
Dead Real is an engaging police procedural novel with good lead detectives.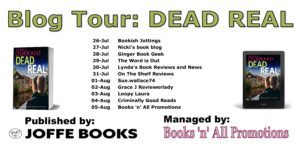 DEAD REAL BY HELEN H. DURRANT
Looking for a brilliant bestselling crime mystery with great detectives?
SOMETHING BAD'S GOING DOWN — AND NO ONE WILL TALK.
One of the Hobfield estate's newest tenants is horrified when her cat returns home with a human foot in its mouth.
The foot belongs to 16-year-old Noah Crosby, whose decomposing remains are found in a rubbish-strewn alleyway. He was wearing an expensive gold watch, high-end trainers and had a top-of-the-range mobile phone on him when he died. The motive clearly isn't robbery.
But how could a young lad from the wrong side of the tracks afford such expensive gear?
The post-mortem reveals that the letter X has been carved into Noah's skin. The signature of a killer known as the Shadow, who plagued the estate more than twenty years before. A killer who was never caught.
Could the Shadow be back at large?
Detective Tom Calladine and his partner DS Ruth Bayliss are finding it difficult to make headway. People are scared. No one will talk.
At the same time, Tom's new girlfriend's shop is targeted — and it's clear she's not telling him the whole truth about the attack. Just what is Kitty hiding? And when an old flame returns to Leesdon, Tom senses trouble ahead . . .
Love Angela Marsons, Rachel Abbott, Mel Sherratt, Ruth Rendell, or Mark Billingham? You'll love this bestselling crime fiction writer.
DEAD REAL is the brand-new book in the series of detective thrillers featuring DS Ruth Bayliss and DI Tom Calladine.
WHAT READERS ARE SAYING ABOUT THE CALLADINE & BAYLISS MYSTERY SERIES:
"Yet again an absolutely amazing book. I love the characters and how the storyline flows from book to book. I can't wait for the next one already." Michelle G.
"Classic Helen Durrant . . . Just when you think you have worked it out there is another twist!" Carol S.
"Addictive." Christina M.
"Helen Durrant is a master storyteller. Be it the mystery or the character development or keeping the readers hooked on to the story till the end, Helen is the best." The Book Decoder
"A gritty novel with great characters. The series gets better and better." Trina D.
THE DETECTIVES
Tom Calladine is a detective inspector who is devoted to his job. His personal life, however, is not so successful. Having been married and divorced before the age of twenty-one has set a pattern that he finds difficult to escape.
Ruth Bayliss is in her mid-thirties, plain-speaking but loyal. She is balancing her professional life with looking after a small child.
THE SETTING
The fictional village of Leesdon is on the outskirts of an industrial northern English city. There is little work and a lot of crime. The bane of Calladine's life is the Hobfield housing estate, breeding ground to all that is wrong with the area that he calls home.
DISCOVER YOUR NEXT FAVOURITE MYSTERY SERIES.
THE CALLADINE & BAYLISS MYSTERY SERIES
1: DEAD WRONG
2: DEAD SILENT
3: DEAD LIST
4: DEAD LOST
5: DEAD & BURIED
6: DEAD NASTY
7: DEAD JEALOUS
8: DEAD BAD
9: DEAD GUILTY
10: DEAD WICKED
11: DEAD SORRY
12: DEAD REAL

HELEN H. DURRANT
OVER 1 MILLION BOOKS SOLD!
Helen is one of the 'baby boomer' generation and began writing when she retired from her job at a local college. Born in Edinburgh to an English father and Scottish mother the family settled in a Pennine village between the counties of Lancashire and Yorkshire. It is an environment which has shaped her stories. Writing is a second career and, despite having a bus pass, keeps her busy, and tuned in.
Helen's children are all grown-up and she has five grandchildren.
FOLLOW HELEN ON