Private investigater Charlie Winters is asked to search for a missing teenager when a second girl goes missing. It has a personal feel to the case as Charlie's own sister disappeared years earlier. Could it be the same killer?
Charlie is a wonderful character. I loved her ghost or imaginary sister Allie. They have a natural dialogue with really resonated with me as a sister! Our family always know us best and especially as Charlotte and Allie are twins, they know the right things to say to support as well as wind each other up. This provides humour as well as an emotional background for Charlie.
Charlie has taken over the detective agency as her uncle who owns it has cancer. This is another way that the authors endear us to the protagonist as we see her softer caring side.
The plot has plenty of twists and turns as characters become suspects and are then discounted as Charlie uncovers evidence. I didn't guess the murderer and really wasn't sure whether there would be a connection to Allie's disappearance. I admit to being surprised by the police allowing Charlie to complete some aspects of the investigation rather than sending their own officers.
The writing style is easy to read and the plot rushes along quickly. The chapters are short and it was always tempting to read just one more when I should have been doing something else!
I am fascinated by the idea of two people writing together and have absolutely no idea how it works (do they sit together and write it out? do they each take a chapter or dialogue or description section?) However they do it, LT Vargus and Tim McBain have created a brilliant lead character in Charlie Winters and I look forward to seeing what happens next for her and her ghostly sister…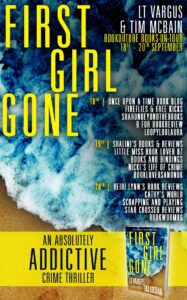 Book Description:
Down the beach, she can just make out the rusting hulk of the Ferris wheel through the dawn mist. The hairs prickle on her neck as she drags her focus back to the chestnut hair fanned out in the shallow water at her feet, to the grains of sand decorating the beautiful girl's white cheeks like freckles.
Detective Charlie Winters never thought she'd find herself back on Salem Island, but she's forced home re-open the wound that never healed: her sister was abducted from the small town when they were teenagers. But now a family friend needs her help to find her missing daughter, Kara.
Searching Kara's messy, poster-covered bedroom, Charlie finds more questions than answers. Did Kara run away, or was she snatched? She's clearly been keeping secrets from her family—but don't all teenagers?
A little black matchbook hidden in a jewellery box is Charlie's only lead, but the seedy nightclub it comes from proves to be nothing but a dangerous dead end. Until Charlie is approached by a second distraught mother whose daughter has also vanished.
Forced at every turn to relive the trauma she ran away from, Charlie's blood runs cold when a girl's body is discovered in the exact spot on the water's edge where the last trace of her sister was found. It's clear someone is taunting Charlie, but with other innocent girls' lives at risk, she has no choice but to take the bait…
An absolutely unputdownable crime thriller that will leave you gasping for breath. Fans of Angela Marsons, Robert Dugoni and Lisa Regan will need to sleep with the lights on!

Author Bio:
L.T. Vargus and Tim McBain are the authors of the Violet Darger series and The Scattered and the Dead series among others, which have collectively tallied over a million downloads. Their book, Dead End Girl, peaked at #3 in the US Kindle charts and has remained in the top 10 in multiple sub-categories since it was published in 2017.
Buy Links: