Granny Franny and her big red bus are off on another adventure!

In Granny Franny's Big Zoo Rescue, we meet up again with Granny Franny and her grandchildren Jax and Ronni. The talking bus bell Thinkerbell also returns with her rhyming speech.
The premise of this book is a trip to the zoo but things quickly go wrong when the children climb on board the bus and spot escaped animals on their journey. Can Granny Franny and the children use the bus to round up the animals and get them safely back to the zoo…?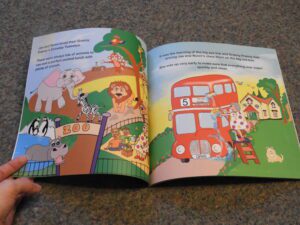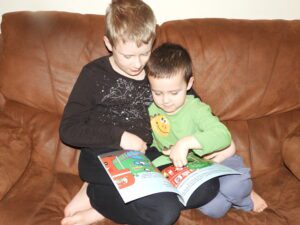 As you can see from the photos above, the illustrations are fun and bright. Thinkerbell has the word 'push' on her nose so Zach obliged each time! This is a lovely book to share with younger children and is a fun way for older siblings to enjoy time with little ones whilst practising their expression and fluency of reading.
In these tricky lockdown times, some escapism and adventure is very much appreciated! Happy memories of bus trips and visits to the zoo as well as time with grandparents are all evoked with this sweet children's book.
Whilst writing this book, author and illustrator Sonia Beldom was visited by a little robin so has decided to make a donation to the RSPB for every book sold. She has also hidden a little robin on each page adding an extra fun thing to spot.
My favourite part of the book was the lion's rescue while Zach enjoyed hunting for the robin among the other animals. Matthew enjoyed an incident with elephant poo!
Take a look at my review of the first book in the series: Granny Franny's Big Red Bus, or for more information, take a look at Granny Franny's website.
About Granny Franny's Big Zoo Rescue and its author:
Granny Franny's second adventure on her big red bus starts when her special Zoosday Tuesday appears to be over before it has begun. With the help of her resourceful grand children, Jax & Ronni, Thinkerbell the talking bus bell and a host of funny new characters, Granny Franny comes to the rescue of a zoo whose animals have escaped overnight. Will she be able to pick up the penguins, marshall the monkeys and lure the lion back?
This funny story is about the unbreakable bonds between grand parents and their grand children, the spirit of adventure, generosity, conquering fears, kindness and helping each other.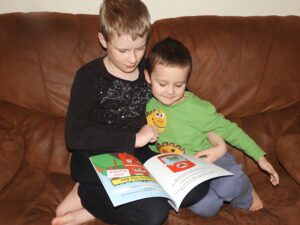 While Sonia was writing Granny Franny's Big Zoo Rescue, a tame robin came to visit her every day; sometimes sitting on her laptop screen, often eating out of her hand and exploring the house. Sonia was heartbroken when a sparrow hawk swooped down to take her robin away, so in the little robin's honour Sonia has planted a picture of him on every page and a percentage of sales is going to the RSPB.