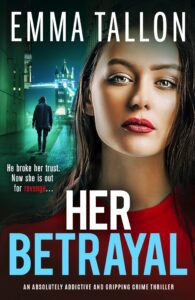 Scarlet Drew and her family have just committed a daring heist but then paid the consequences. Her cousin Ruby is in a coma and their family business in a burned out shell. But Scarlet's past comes back to haunt her when new evidence is found linking her to a murder and her own boyfriend is investigating…
Her Betrayal follows on directly from the previous book in the series: Her Rival. There is enough detail about events in the last book to catch up quickly (but I would recommend reading the first two books as they were great!) I have also reviewed
Her Revenge,

 

Fearless Girl

 and 

Ruthless Girl

by Emma Tallon.
Danger for the Drew family is epic in this book. Their rival Grace has shown them they are vulnerable and now Scarlet faces prison in a separate plot twist. I was completely gripped by both the plot and character developments, and the action is fast and furious throughout. The drama is wonderfully gritty and the violence is intense when it occurs.
Scarlet is still the new girl on the block and it is her aunt Lily who steals every scene in my opinion. Once more, Lily's vulnerability, especially relating to her daughter Ruby, makes her a more realistic and likeable character. She strikes a deal with her rival but I totally mistrusted her motives and enjoyed seeing how events played out.
Her Betrayal is a fast paced and gripping gang thriller and I can't wait for the next book in the series.

MEDIA PACK
Book: Her Betrayal
Author: Emma Tallon
Pub Day: Feb 15th 2022
About the Book: 
If you love reading Martina Cole and Kimberley Chambers you will be totally gripped by this gritty, gangland crime thriller. Once you meet fearless and strong Scarlet Drew, you won't be able to stop reading.
Head of the family crime business, and with a new guy in her life, things have never been better for Scarlet Drew. Working with her aunt Lily on their biggest ever job – revenge on the woman who set fire to their factory, with Lily's daughter trapped inside – Scarlet is suddenly dragged into the local police station to answer questions about the death of a local gangster. The face she sees across the interview table shocks her to her core. It's her new boyfriend, John.
Hours later, John is banging on Scarlet's door, telling her he loves her and she can trust him. Can Scarlet risk believing the only man she's ever loved, or is she putting her family in unthinkable danger?
As the night of Lily's plan draws near, the police come knocking once again. This time with evidence that could see Scarlet locked-up for good. Can they still pull off their biggest job yet, or has Scarlet made a fatal mistake and let John get one step ahead of them?
A completely unputdownable crime thriller that will keep you up all night!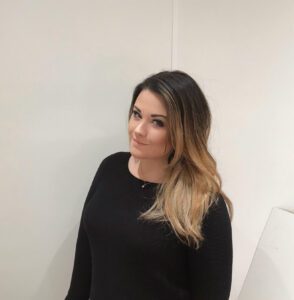 Author Bio
Emma Tallon is a British author of gripping, gritty, organised-crime thrillers and mother of two.
Having started her writing career as a freelance ghostwriter, Emma finished her first novel, Runaway Girl, in 2016, and became an author full time. Since then she has written several other novels for her publisher and has carved out a successful career for herself from her home in Milton Keynes, where she can usually be found typing away in her office surrounded by large stacks of books and Post-it Notes full of ideas for future stories.
Social Media