Scarlet Drew is settling into the family world of gangland crime. But a sexual assault leads to plans for revenge that go beyond anything the family or gang have ever attempted before…
Her Rival is the sequel to Her Revenge and we catch up with the intrigues and escapades of the notorious Drew family. I think there is enough backstory included that it would not matter if you can't wait to read this one although there are spoilers about events in the last book.
Scarlet is a determined woman, still adjusting to life without her dad and anxious to make a name for herself as well as prove herself to her aunt who now head the family. Her experience at the hands of a drunken toff leads to a huge heist plotline which I loved.
Once again, Lily Drew stole the show for me. A hard outer shell to protect her reputation and family but fear for her family makes her vulnerable. This is evident in her romantic relationship with Ray and tense relationship with her drug addict daughter Ruby.
There is violence but it is not extreme considering the genre. The plot moves relentlessly fast again and I was completely swept up in the lives of the Drew family members.
Her Rival is an excellently engaging and gripping family gangland saga. I am such a fan of this genre and have previously reviewed other Emma Tallon book including Fearless Girl and Ruthless Girl.

MEDIA PACK
Book: Her Rival
Author: Emma Tallon
Pub Day: Sept 17th 2021
Buy Links:
About the Book:
Fans of Martina Cole and Kimberley Chambers will love this nail-biting new book from crime author Emma Tallon, set on the same mean streets as her bestselling Tyler Family series.
Scarlet Drew is new to London's criminal underworld, but she's hell bent on making a name for herself as joint head of the family firm alongside her aunt Lily. But when Scarlet finds herself alone with a rival business owner at a black-tie event, she is little prepared for what happens next.
Determined not to let the drunken lech get away with his crime, Scarlet hatches a plan for revenge – she's going to steal his most valuable asset and put her name on the map. But as she gets to work, she fails to notice a silent stranger watching her every move. Someone knows exactly what she's up to, and is plotting their own way to get their hands on the priceless goods.
Face to face with a new enemy, Scarlet fears the Drews may have finally met their match. With the whole family at risk, it's going to take everything they have to stop their empire going up in smoke. But will everyone survive the fight?
Her Rival is a gripping and addictive crime thriller that has it all – strong women, explosive action and an ending that will have you gasping for breath!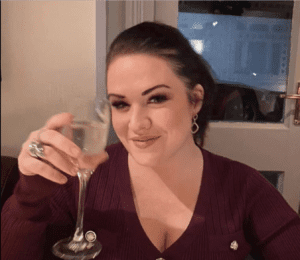 Author Bio
Emma Tallon is a British author of gripping, gritty, organised-crime thrillers and mother of two.
Having started her writing career as a freelance ghostwriter, Emma finished her first novel, Runaway Girl, in 2016, and became an author full time. Since then she has written several other novels for her publisher and has carved out a successful career for herself from her home in Milton Keynes, where she can usually be found typing away in her office surrounded by large stacks of books and Post-it Notes full of ideas for future stories.
Social Media