Detective Jo Fournier's latest case is the murder of a woman accused of child abuse. Melissa Rollins died locked in a closet, the same way she allegedly treated her daughter. It quickly becomes clear that there are other women accused of abuse that have been targeted: a serial killer avenging abuse victims…
Her Silent Prayer is the fifth book to feature Jo Fournier. I have somehow missed book 4 but read and reviewed books 1-3 (The Dancing Girls, Taken to the Grave and Her Daughter's Grave). There is a continuation of plotlines from previous books so I would advise reading the series in order.
I don't want to give too much away but Jo is facing more than one killer in this book. First she has the killer of alleged abusers and then there are links to characters we have met in earlier books. There is a personal element and Jo and her family are in danger. However, this makes her even more determined to find the killer.
The majority of the book is writen to show Jo's perspective but there are some chapters that give us glimpses into the killers' minds and their victims. This increases the tension and anticipation are we wait for the next plot development. The deaths are handled objectively through forensic description although Jo's emotional response makes them more vivid and therefore grisly.
Her Silent Prayer is an enjoyable detective thriller.

Title:  HER SILENT PRAYER
Publication Day: April 7th 2022 
Author:   M.M. Chouinard  
Buy  Links:      
Audible:
Description:
"Help!" she screams, kicking as hard as she can against the closet door. But it's nailed shut, and nobody can hear her. She drops to her knees and curls into a ball like she did as a little girl, praying someone will find her before it is too late…
When the body of single mother Melissa Rollins is found trapped inside a bedroom closet in her immaculate suburban home, Detective Jo Fournier races to the scene. The small town of Greenfern is sweltering in a heatwave, and Jo is horrified to find that Melissa's heating was turned up to the max whilst she died of thirst. Who would kill a devoted mother in such a cruel way?
Searching the house for clues, Jo's team discovers that the front door was locked from the inside. And with no sign of a break-in, they realise the killer must be someone Melissa knew. But everyone in the frame has an alibi…
As she delves deeper into the case, Jo uncovers a link between Melissa and a recent cold case: another single mother who was tied up and brutally murdered. Someone is on a mission to kill local mothers, and Jo knows they will claim their next victim soon.
But as temperatures continue to rise and the team works around the clock to stop a twisted killer, someone from Jo's past catches up with her. They're watching her family's every move, and they will stop at nothing to get revenge… Can Jo save the people she loves and catch the killer before it's too late?
From USA Today bestseller M.M. Chouinard, Her Silent Prayer is a completely addictive serial killer thriller that will not let you go until you turn the last heart-thumping page! Perfect for fans of Lisa Regan, Melinda Leigh and Gregg Olsen.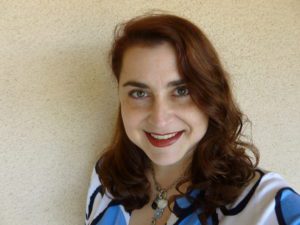 Author Bio:
M.M. Chouinard is the author of the Detective Jo Fournier mystery thrillers, and the standalone mystery thriller The Vacation. Her first fiction story was published in her local paper when she was eight, and she fell in love with Agatha Christie novels not long after. While pursuing a Ph.D in psychology and helping to found the first U.S. research university of the new millenium, the stories kept rattling around inside her skull, demanding to come out. For sanity's sake, she released them.
Author Social Media Links: