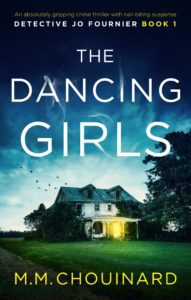 The Dancing Girls surpassed all my expectations. I absolutely loved it from the very first page.
The book is divided into three parts, each centred around the victim.
The plot begins with the murder of Jeanine and the subsequent police investigation which throws up very few leads. We are introduced to the killer Martin and the person on his trail, lead detective Jo Fournier.
In the second part of the book, the dynamic changes. We find out a lot of the back story for both the killer and the second victim Emily. Our sympathy develops for BOTH characters even though we are pointed towards the flaws in both.
Meanwhile, the police are continuing to be frustrated in their efforts to find Jeanine's killer. Jo's determination to uncover the truth and find evidence power the investigation even though her senior officers want to stop wasting resources on a case with no leads.
The third part of the book deals with the killer attempting to groom a new victim. The woman he chooses is much more demanding which frustrates and excites Martin.
The ending is truly astonishing and unexpected. No spoilers but OMG!!!
The plot and character development is so clever and engaging. Jo is a traditional cop with a troubled personal life: her parents want her to settle down but she is dedicated to the job and it ruins her relationships. Martin is obviously a killer but his devastating story of abuse is heartbreaking to read.
I was completely captivated by M.M. Chouinard's spellbinding narrative from start to finish. Wow!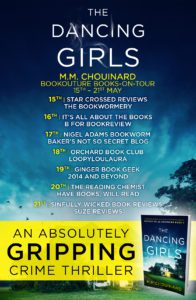 Title:  The Dancing Girls
Publication Day: 15/05/2019
Author:   M.M. Chouinard  
Buy  Links:      
Description:
The light in her wide brown eyes dimmed as she drew her last breath. She might have been beautiful lying there on the floor, if it wasn't for the purple marks on her neck and the angry red line on her finger where her wedding band used to be…
When Jeanine Hammond is found dead in a hotel in the picture-perfect town of Oakhust, newly-promoted Detective Jo Fournier is thrown into a disturbing case. Who would murder this shy, loving wife and leave her body posed like a ballerina?
Jo wants to know why Jeanine's husband is so controlling about money, and where Jeanine's wedding ring is, but before she and her team can get close to the truth, another woman is found strangled in a hotel, arms placed gracefully above her head like a dancer.
While digging through old case files, Jo makes a terrifying link to a series of cold cases: each victim bears the same strangulation marks. But the FBI won't take Jo seriously, and if she disobeys direct orders by investigating the killings outside of her jurisdiction, it will mean the end of the career she's already sacrificed so much for, even her relationship.
Just as Jo is beginning to lose hope, she finds messages on the victims' computers that make her question whether these small-town women were hiding big lies. Jo thinks this is the missing link between the victims, but she knows the killer is moments away from selecting his next victim. Will it lead her to the most twisted killer of her career in time, or will another innocent life be lost? 
An absolutely unputdownable and brilliant new crime thriller series that fans of Robert Dugoni, Lisa Regan and Melinda Leigh will devour in one sitting.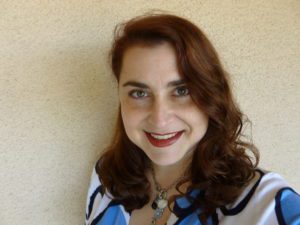 Author Bio:
M.M. Chouinard's first fiction story was published in her local paper when she was eight, and she fell in love with Agatha Christie novels not long after. While pursuing a Ph.D in psychology and helping to found the first U.S. research university of the new millenium, the stories kept rattling around inside her skull, demanding to come out. For sanity's sake, she released them. She's currently at work on her seventh novel.
Author Social Media Links: