A dream trip to Jamaica turns into every parent's nightmare as a child disappears. Three year old Lily has vanished from the bedroom when her parents check on her. However, there are major relationship strains and secrets which may be relevant to her disappearance…
The Vacation is a tense thriller about the disappearance of a child, which has high emotive power due to the real life Madeleine McCann case.
Lily's parents Rose and Brandon are obviously distraught and frantic at their daughter's disappearance. Rose has previous mental health issues which contrasts with Brandon. He is a doctor and used to feeling in control, bordering on arrogance, which makes him not a very sympathetic character.
In fact, each character was portrayed authentically, with positive and negative elements to their personalities. Their motives and behaviours are not always clear cut. Relationships between the adults have multiple layers and secrets threaten to drive the family and friends apart permanently.
The plot is provided via different timelines and perspectives, giving the reader insight into multiple characters and their emotions and memories. We are able to witness events which took place prior to Lily's disappearance as well as the aftermath.
The Vacation is an enjoyable thriller. I have previously reviewed The Dancing Girls, Taken To The Grave and Her Daughter's Cry from M.M. Chouinard's Detective Fournier series.

Title:  The Vacation
Publication Day: 27/05/2021
Author:   M.M. Chouinard  
Buy  Links: 
Description:
One of them is missing… One of them did it…
The Thanksgiving retreat was meant to be a time for them to get away from it all, miles from the secrets that threaten to tear their family apart. But they're each hiding something:
Rose hopes the pretty house overlooking the sea is just the break her family needs. But as she gazes at the water and remembers her own childhood, she is utterly terrified.
Brandon knows his wife Rose has barely forgiven him for his affair. He's started drinking again, a road that led him to disaster once before.
Brianna, Rose's sister-in-law, is recovering from her fifth miscarriage, and when she looks at her adorable niece, she can't help but see the daughter she deserves.
Then three-year-old Lily disappears from her bed in the villa. Isolated in what should have been paradise, it quickly becomes clear that one of them took her.
As one by one their secrets are uncovered, who will be destroyed next?
A completely addictive thriller about every parent's worst nightmare that will keep you guessing into the early hours of the morning. Perfect for fans of The Guest List, One by One and The Sister-in-Law.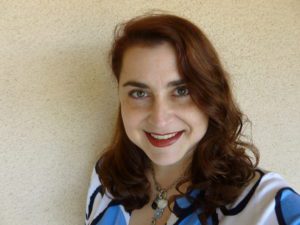 Author Bio:
M.M. Chouinard writes crime fiction (including suspense, procedurals, and cozies), and women's fiction. M.M. Chouinard's first fiction story was published in her local paper when she was eight, and she fell in love with Agatha Christie novels not long after. While pursuing a Ph.D in psychology and helping to found the first U.S. research university of the new millenium, the stories kept rattling around inside her skull, demanding to come out. For sanity's sake, she released them.
Author Social Media Links: