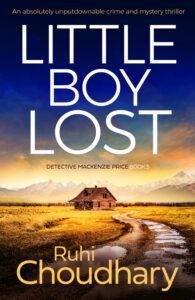 TRIGGER WARNING : this book contains child murder
Three boys disappear on a school trip. One boy is found dead shortly afterwards with a warning that the other boys will die too if Johnny's killer isn't found. Except Johnny's killer was convicted serial killer and has been in prison for the last eight years. Has there been a mistake and can Mad Mack find the two boys alive…?
Little Boy Lost is the third book to feature Mackenzie Price. There are no spoilers about the previous cases. However, the tangled personal experiences of Mack have evolved over the series so I think it would be beneficial to read the books in order to see the progression of her circumstances develop.
The disappearance of three children is highly emotive and when the first body is discovered, the book takes an upsetting direction. The author does not shy away from the forensic detail nor the devastation of the parents. The tension for the police team and the other frantic parents feels authentic, and as a mum myself it was difficult but compelling to read.
Mack and her partner Nick have the difficult task of investigating the current case as well as looking at the apparently solved case of Johnny's murder. Nick feels intensely guilty as he was in charge of the case so believes he is responsible for the actions of the killer. Meanwhile Mack is a little distracted by the complications in her family life and the recent murder of her father.
Little Boy Lost is an upsetting but captivating novel with a strong plot, plenty of action, and a wonderfully complex lead detective. I have previously reviewed the first two books in the series: Hidden Lake and Their Frozen Graves.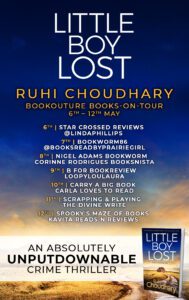 RUHI CHOUDHARY Media Kit:
Title: LITTLE BOY LOST
Author:  Ruhi Choudhary
PUBLICATION DAY: May 6th 2021
BUY LINKS:
Description:
The clear sky burst into flames of peach and gold, illuminating the small body leaning against the rocks. He looked even smaller than he had in the photos, purple marks blemishing his neck. His eyes were open, staring ahead at the vastness of the still water.
When three nine-year-old boys go missing on a field trip to Lakemore's annual spring festival, panic tears through the small town. Detective Mackenzie Price and her partner Nick Blackwood lead the search, but no trace of the boys is found—until one of them is found murdered, a note stuffed down his throat.
"Find Johnny's killer, or they all die."
Johnny was supposedly a victim of Jeremiah, a serial killer Nick helped put behind bars nearly a decade ago for the murder of ten young boys. But when Mack and Nick pay him a visit, he claims that he knows nothing—and that he remains innocent of Johnny's murder.
Then a second boy is found, another clue left on his body, leaving just one left alive. Desperate to save the last boy's life, Mackenzie and Nick comb over Jeremiah's case, only to discover proof of a shocking cover-up—and a killer who will stop at nothing to right the wrongs of the past.
Packed full of shocking twists and nail-biting suspense, Little Boy Lost is a truly unputdownable crime thriller, perfect for fans of Karin Slaughter, Lisa Regan and Angela Marsons.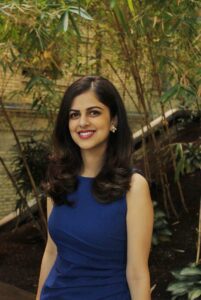 Author Bio:
Ruhi Choudhary discovered her passion for writing when she was seven years old and wrote her first Star Trek episode. Being a fan of the dark and twisted, she found her calling in crime thriller.
She likes to write stories that make you a little uncomfortable and characters that you struggle to make up your mind about but stay with you.
She lives in Toronto and spends her days training to be a scientist and wishing it rained more often!
Author Social Media Links: