Detective Mackenzie Price is investigating the disappearance of a young woman exactly a year after another girl vanished. Politics is at play as Mack tries to investigate Abby's disappearance and then a body is discovered.
Meanwhile she is dealing with severe personal issues. Her husband is having an affair but she hasn't the courage to confront him so it is eating away at her. Overwhelming her present day actions and emotions are the guilt and terror of hiding her father's body after her mother killed him after enduring years of abuse.
Can Mack focus on the case long enough to solve it…?
Hidden Lake actually begins with a flashback prologue to Mack returning home at the age of 12 and finding her mother with her father's body. This is hugely dramatic and drags the reader straight into the story with a high level of empathy with Mack.
The pace of the book overall is quite slow which is probably accurate for most criminal cases but less dramatic. This left plenty of scope for the personal side of Mack's life to come to the fore.
I admit to feeling irritated by Mackenzie's obsession with the past even though I could understand it. She is haunted by her father but I don't understand why she feels accountable for her actions as a 12 year old protecting her mother. Now her mum is dead too, I think she should have come clean and saved herself the mental anguish.
Hidden Lake is a debut novel yet Ruhi Choudary writes in a confident way. The characters and plot are well developed but the crimes felt secondary to the personal life of Mack.
The ending was unexpected as the truth of the disappearance and murder is revealed, and my jaw literally dropped at the epilogue. There MUST be a sequel based on the shocking twist at the end and I look forward to finding out what happens to Mack next.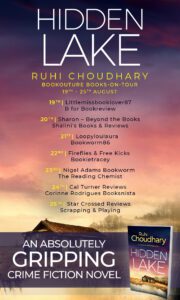 RUHI CHOUDHARY Media Kit:
Title: Hidden Lake
Author:  Ruhi Choudhary
PUBLICATION DAY: 19/08/2020
BUY LINKS:
Description:
When she was just twelve years old, Mackenzie Price came home to find her father bleeding to death on the kitchen floor. She will never forget that night, nor what her mother asked her to do…
Twenty years later, Detective 'Mack' Price is back in Lakemore, despite vowing never to return. Determined to atone for the sins of the past, she is unstoppable in her quest for justice.
When eighteen-year-old Abigail Correia goes missing, Mack is convinced that the case is linked to Erica Perez, who disappeared exactly one year before. Unlike Abby, Erica is the daughter of one of the town's most powerful men, but still no trace of her has been found.
As Mack endeavours to find Abby and bring her back alive, she and her team unearth a shocking secret at the heart of this small town. But that is not the only secret that lurks beneath the surface, as Mack knows only too well…
The first book in the Detective Mack Price series, Hidden Lake is a haunting and utterly unputdownable crime thriller, perfect for fans of Lisa Regan, Angela Marsons and Karin Slaughter.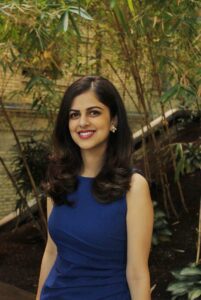 Author Bio:
Ruhi Choudhary discovered her passion for writing when she was seven years old and wrote her first Star Trek episode. Being a fan of the dark and twisted, she found her calling in crime thriller.
She likes to write stories that make you a little uncomfortable and characters that you struggle to make up your mind about but stay with you.
She lives in Toronto and spends her days training to be a scientist and wishing it rained more often!
Author Social Media Links: