Mack gets the shock of her life when she opens the boot of her car to find a dead body. A sinister note makes it clear that the killer has deliberately chosen a personal link to Mack. Then another woman disappears, a person from her past, and Mack is forced to consider why the killer is focused on her…
Mack's case is personal again this time. The first victim is dumped in her car and the next is an old school bully. The killer seems to be fixated on seeking Mack's happiness so could it be someone she knows?
I love Mack's character. She is strong but also has a vulnerable side due to her experiences in the past. Her dedication to seeking justice is relentless and in this book she has to carefully navigate her personal and professional lives once again.
The chapters are quite short which helps to keep the pace swiftly moving along. There are plenty of plot twists and the tension was maintained throughout the book. The book deals with some big and unpleasant issues including sexual exploitation which makes us will Mack on to successfully close the case.
The Lost Bones is an enjoyable crime thriller with a great lead character.

MEDIA PACK
Book: The Lost Bones
Author: Ruhi Choudhary  
Pub Day: May 9th 2022
Buy Link:
About the Book: 
The woman's skin was almost transparent. Her light hair darkened at the tips. Her lips were blue and slightly parted. But all Mackenzie could focus on were the eyes. Those arctic eyes that looked glassy like glistening marbles. She could see her own reflection in them staring back at her. The woman looked almost like a carefully crafted doll.
Detective Mackenzie Price

 knows what makes a killer tick. But when she finds the body of a young woman dumped in the trunk of her car, she knows this case is going to be the most personal and twisted yet.
Looking down at the victim, Mack recognises her instantly: 
Sophie Fields

, the fiancée of Mack's co-worker who vanished months before. Reeling in shock, Mack keeps one crucial piece of evidence to herself, too horrified to share it: a crumpled piece of paper bearing the words "

You're welcome, Mackenzie

."
As Mack pieces together Sophie's last known movements, another body is found with a note. This time the victim is Courtney Montenegro, Mack's childhood bully. As Mack looks at the note it becomes clear that the killer has an unusual MO: they want to protect her at all costs. But why?
The only evidence connecting the victims are identical pieces of material left at both crime scenes. With no other leads, Mack unearths a cold case which may lead her to the killer. Sophie had a sister who disappeared years before. Did she get too close to the truth and pay the ultimate price?
With an obsessive killer still on the loose, Mack knows that she needs to get deep inside their mind to work out who is next on the hit list. Can she get to the killer in time before someone close to her loses their life?
A completely gripping read that will have you on the edge of your seat, this addictive crime thriller is perfect for fans of Lisa Regan, Kendra Elliot and Melinda Leigh.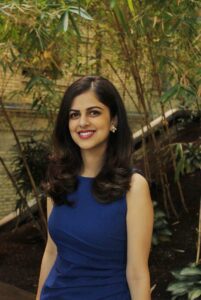 Author Bio
Ruhi Choudhary discovered her passion for writing when she was seven years old and wrote her first Star Trek episode. Being a fan of the dark and twisted, she found her calling in crime thrillers.
She likes to write stories that make you a little uncomfortable and characters that you struggle to make up your mind about but stay with you.
She lives in Toronto and spends her days training to be a scientist and wishing it rained more often!
Ruhi's social media: