Lady Kitty Underhay and her private investigator beau Matthew Bryant are invited to Thurscomb Castle for her cousin's wedding. But the nuptials are overshadowed by a murder and the pair are straight on the case. Can they find the killer and prevent another death?
Murder at the Wedding is the 7th book by Helena Dixon to feature Lady Kitty Underhay. We revisit characters from previous books as well as mentions of plotlines that have threaded through the rest of the series. However, there are no major spoilers and this could be read as a stand alone novel.
The 1930s are brought to life, especially the upper classes as Kitty travels to a stately home to celebrate the nuptials of her cousin Lucy who we had met in a previous book. However, Kitty's gentle nature allows her to makes friends in all classes although once again the police are not keen on her involvement!
There are whole array of characters to suspect as they all seem to be acting suspiciously or be hiding secrets. I admit I did get a little confused as they are referred to variously by their first or second names. Kitty and Matt have to wade through the red herrings to find the correct motive and therefore the killer.
But perhaps more important for fans of the series… the love blossoming between the lead characters finally seems on track…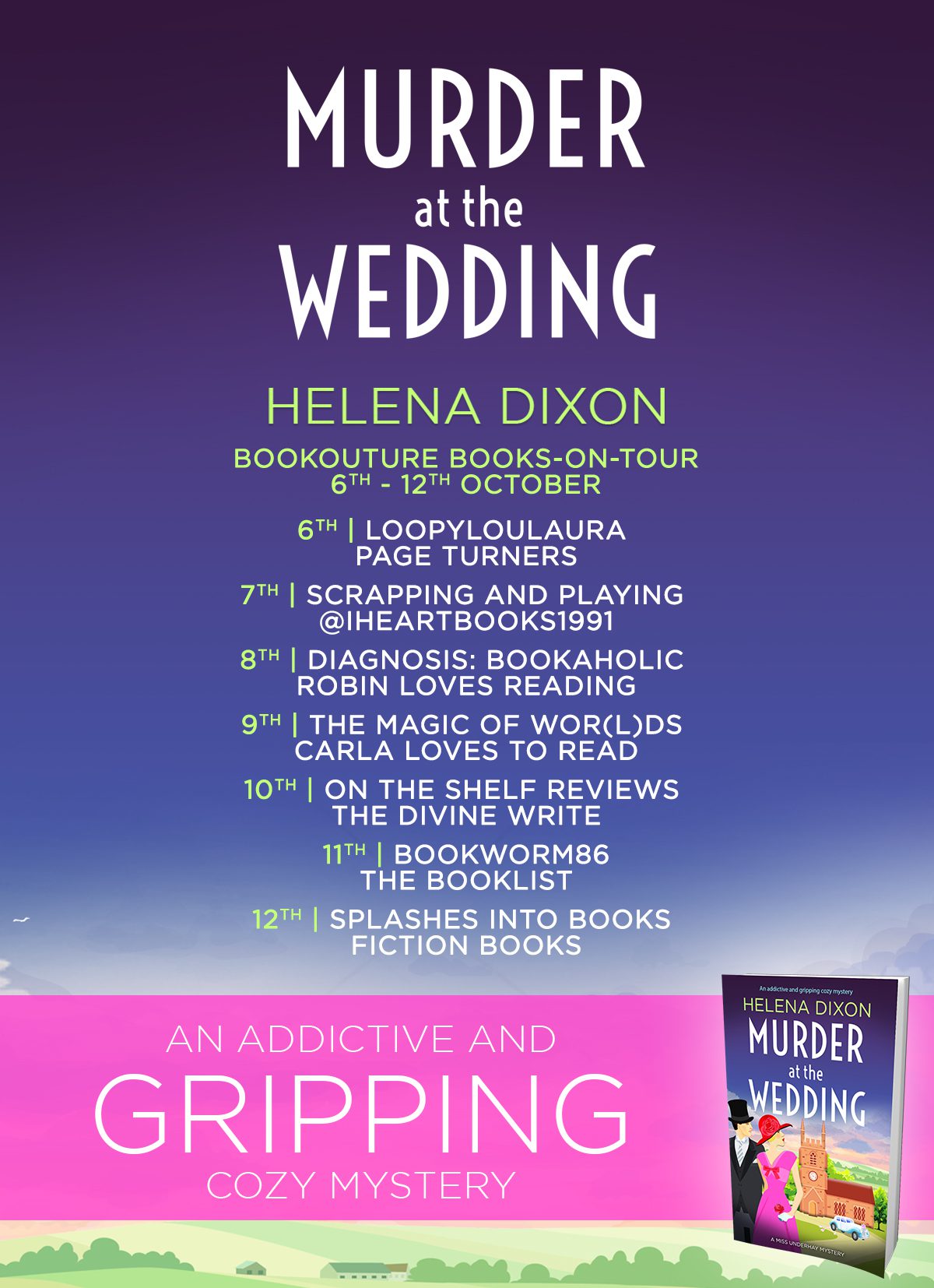 MEDIA PACK
Book: Murder at the Wedding  
Author: Helena Dixon 
Pub Day: Oct 6th 2021
Buy Link: 
About the Book: 
'Till death do us part may come sooner than they thought…
1934. Kitty Underhay steps out of the battered Rolls Royce and onto the gravelled driveway of Thurscomb Castle in deepest Yorkshire. She's honoured to be a bridesmaid at her cousin Lucy's wedding to the reluctant Lord Rupert Woodcomb, but as family and friends gather for welcome drinks, Kitty dodges intrusive questions about her own marital status by taking a stroll about the castle grounds. As she passes through the manicured gardens, a fatal shot rings out…
The valet, Evans, is dead. And Kitty can't help but notice how rattled the man standing next to him seems. Could Rupert's best man, The Right Honourable Alexander 'Sandy' Galsworthy, believe the speeding bullet was meant for him?
When she discovers that Sandy has been receiving blackmail notes, Kitty suspects that one of the assembled guests has plans to make good on their threats. The local constabulary won't act on Kitty's hunch, so, busy with her bridesmaid's duties, she asks her beau, ex-army captain Matthew Bryant, to help.
The ceremony passes without a hitch. But when an anxious Sandy slips away during the dancing, Matt follows, only to make a hideous discovery: Sandy is dead, flattened on the terrace by some falling masonry.
Now the duo are sure that there is a murderer within the castle walls. But can they untangle Sandy's final hours and catch this killer before they strike again, or will the wedding bells be replaced by a death knell for Kitty herself…?
A completely charming and unputdownable cozy historical Golden Age murder mystery! Perfect for fans of Agatha Christie, T.E. Kinsey and Lee Strauss.

Author Bio
Helena Dixon was born and continues to live in the Black Country. Married to the same man for over thirty years she has three daughters, a cactus called Spike, a crazy cockapoo and a tank of tropical fish. Helena was the RNA winner of the Romance Prize in 2007 and Love Story of the Year 2010.
Social Media