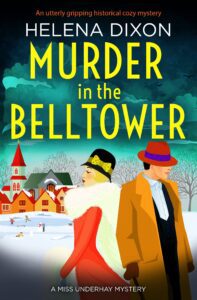 Christmas 1933 and Kitty Underhay travels to Enderley Hall to spend the festive season with her family and in the company of the man she is walking out with. She has had a busy year solving murders and investigating her mother's death so is looking forward to a rest. But Christmas celebrations falter when a body is discovered…
Murder in the Belltower is a cosy murder mystery set amongst the upper class experience of the 1930s. The scene is set in a stately home and traditional English village. There are no graphic murder scenes or gruesome forensic detail, instead the focus is on the exploration of motives.
Kitty's personal life continues to take centre stage as her relationship with Matthew Bryant moves to become more intimate. However, he is secretly investigating the guests but cannot tell Kitty what he suspects. She is also concerned as he appears to have 'history' with a beautiful guest. This book moves along the plot for Kitty and Matthew' relationship but the murder is secondary.
The title feels like a slight misnomer as the murder in the belltower is the second murder and doesn't occur until the final third of the book. The first two thirds of the book are a little slow as we meet the new peripheral characters and Kitty attempts to understand their suspicious behaviours.  We have little knowledge of the murdered characters so I didn't really care about their demise which sounds a bit heartless!
I enjoyed being immersed into the 1930s world again which felt authentic. The focus is on Kitty and Matt's personal development, their investigations and the psychology of the situation and characters as Agatha Christie's Poirot was so fond of persuing.
Murder in the Belltower in the fifth book in the Kitty Underhay series, although each can be read as stand alone novels. I have previously reviewed

Murder at Enderley Hall

, Murder at the Playhouse, and Murder on the Dance Floor.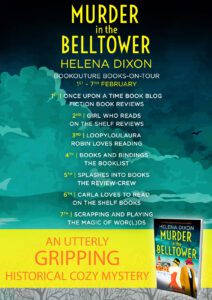 Media Pack  Information Sheet:
Title: Murder in the Belltower
Author: Helena Dixon
Publication Day: Feb 1st 2021
Description:
Kitty Underhay's hymn book is open… at murder.
Winter, 1933. Kitty Underhay is enjoying a restorative break from sleuthing on a visit to her family at Enderley Hall. The only thing marring her peace – aside from the uncomfortable sensation she has of being watched – is the obvious history between her beau, ex-army captain Matthew Bryant and another guest, the beautiful Juliet Vanderstafen. So, when the parish clerk is found dead on her front doorstep, Kitty leaps at the chance of distraction.
The police are happy to conclude that Miss Plenderleith met her unfortunate end on a patch of ice, but Kitty isn't convinced this was a case of bad weather and worse luck. And when the Reverend Crabtree fails to show for tea the next day, she heads to the church to speak to him. But she arrives to find the clergyman hanging from the bell rope, dead.
With Matt seemingly wrapped up with his alluring Austrian, Kitty must solve the case on her own. But as she snoops into parish affairs, she makes some less-than-saintly discoveries. Just who has broken the sixth commandment? Meanwhile the killer is preparing a churchyard grave for Kitty, and she'll have to use all her wits to avoid falling in…
An addictive, absorbing and completely unputdownable Golden Age cozy murder mystery, perfect for fans of Agatha Christie, T.E. Kinsey and Lee Strauss.

Author Bio:
Nell Dixon was born and continues to live in the Black Country. Married to the same man for over thirty-five years she has three daughters, a cactus called Spike, a crazy cockapoo and a tank of tropical fish. She is allergic to adhesives, apples, tinsel and housework. Her addictions of choice are coffee and reality TV. She was winner of The Romance Prize in 2007 with her book Marrying Max, and winner of Love Story of the Year 2010 with her book, Animal Instincts. She also writes historical 1930's set cozy crime as Helena Dixon.
Author Social Media Links: