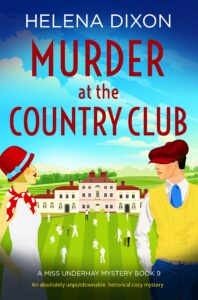 Kitty and her fiance Matthew are invoted to an exclusive country club. Their host Sir William Winspear wishes to have a secret meeting with Matthew but is murdered before the pair can meet. What did he want to tell Matthew and did it get him killed?
Murder at the Country Club is the 9th book to feature Kitty Underhay. She tries to get away for some rest and relaxation but death seems to follow her!
Kitty and Matthew are guests of Sir William but Kitty finds his body pierced by a broken arrow. There is a scrap of fabric which seems to implicate his wife but surely the case can't be solved that easily?! Another murder makes the pair consider the suspects more carefully to establish motives and a connection between the deaths.
The book is set in 1934 and has a classical feel. I was reminded of an Agatha Christie mixed with Midsomer Murders. The death and body are not described in detail, making this a cosy murder mystery. The style of writing is easy to read and the plot twists maintain the puzzle of the culprit's identity.
Murder at the Country Club is an enjoyable cosy historical murder mystery.

MEDIA PACK
Book: Murder at the Country Club 
Author: Helena Dixon 
Pub Day: June 17th 2022 
About the Book: 
Kitty Underhay is playing doubles… with death.
Kitty Underhay

 is accompanying her fiancé, 

Matthew Bryant

,and Bertie, his new cocker spaniel, on an outing to Torbay Country Club. However, the delightful day soon turns to disaster. Walking Bertie in the shaded grotto after an exhilarating archery demonstration, 

Kitty makes an unsporting discovery: the body of their host, Sir William Winspear, with an arrow in his back

.
When the local inspector falls foul interviewing female witnesses, Kitty steps up to the mark. And she quickly discovers that Sir William had threatened one of the guests, dashing Russian dancer Ivan, who is dependent on him for patronage. When Kitty overhears a damning conversation between Ivan and his sister, the case seems clear. But
 the next day Ivan is disqualified as he is found face down in the pool…
The race is on for Kitty to find the real killer, but she must keep her head in the game if she is to outwit this cunning murderer. And 
when the final score comes in, will it be 'killer: three, Kitty: zero'…?
A completely gripping, suspenseful and utterly cozy historical mystery! The perfect read for fans of Agatha Christie, T.E. Kinsey and Lee Strauss.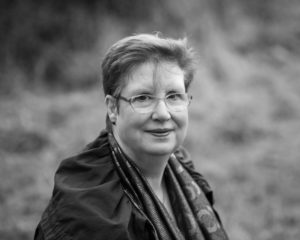 Author Bio
Helena Dixon splits her time between the Black Country and Devon. Married to the same man for over thirty five years she has three daughters, a cactus called Spike, and a crazy cockapoo. She is allergic to adhesives, apples, tinsel and housework. Her addictions of choice are coffee and reality TV. She was winner of The Romance Prize in 2007 and Love Story of the Year 2010 as Nell Dixon. She now writes historical 1930's set cozy crime. Nell enjoys hearing from readers and you can read her news and contact her via her website at http://www.nelldixon.com
Social Media