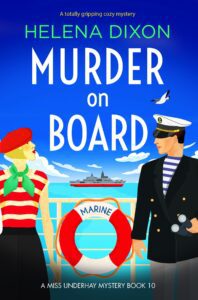 Kitty Underhay is organising an exclusive 21st riverboat party for the Chief Constable's daughter. Her fiance Matthew is following a man who is then discovered dead on board the boat. Then a priceless necklace goes missing: are the two events linked?
Murder On Board is the 10th book in the Kitty Underhay cosy murder mystery series set in Devon.
Kitty and Matthew's wedding is approaching and she is hiring a new manager for the Dolphin Hotel. Life for Kitty is settled and she is looking forward to getting this party over and done with. But Matthew has been secretly tailing a man for the government who is then found dead. The boat was filled with police personnel yet a second crime then occurs!
The party scenario provides a plethora of suspects for Kitty, Matthew and Inspector Greville to interview. The social and gender constructs of the 1930s have been well researched and support the personal character developments as well as the overall murder plot. As you would expect from this genre, there is little violence or forensic detail. However there is plenty of drama and tension!
Murder On Board is an enjoyable murder mystery and I am looking forward to seeing how the dynamics adapt following the imminent wedding…
MEDIA PACK
Book: Murder on Board
Author: Helena Dixon 
Pub Day: Oct 19th 2022 
About the Book: 
Kitty Underhay is drowning… in murder.
Kitty Underhay hopes for plain sailing as she caters a 21st birthday party for the Chief Constable's daughter aboard a luxury paddle steamer. So her heart sinks when she learns that the man her fiancé Matthew has been tailing on orders from Whitehall, Gunther Freiburg, is aboard. And she's even more horrified when she steps below deck to 
discover Gunther, dead in the engine room

. One of the Chief Constable's party must be responsible for his demise, but who, and why?
And the evening is on course for further disaster. As the lights go out around the candlelit cake, a terrible scream rings out over the merry hubbub. 
A priceless diamond necklace has been snatched

 from around the birthday girl's neck… Something fishy is going on, but is this the work of the same sailing assassin, or is it a red herring?
With the local inspector in deep water having to investigate his own boss, Kitty and Matt dive in to help. But when Kitty's eavesdropping puts her in mortal danger, 
will everything turn out shipshape, or will it be her turn to go swimming with the fishes…?
A totally cozy, absolutely gripping historical murder mystery! The perfect read for fans of Agatha Christie, T.E. Kinsey and Lee Strauss.

Author Bio
Helena Dixon splits her time between the Black Country and Devon. Married to the same man for over thirty five years she has three daughters, a cactus called Spike, and a crazy cockapoo. She is allergic to adhesives, apples, tinsel and housework. Her addictions of choice are coffee and reality TV. She was winner of The Romance Prize in 2007 and Love Story of the Year 2010 as Nell Dixon. She now writes historical 1930's set cozy crime. Nell enjoys hearing from readers and you can read her news and contact her via her website at http://www.nelldixon.com
Social Media