Kitty Underhay's fiance Captain Matthew Bryant is informed that he will have a temporary house guest, a witness in a notorious jewel heist. But when Kitty and Matthew arrrive at the station to collect their visitor, they discover his dead body instead. The killer must have been one of the other passengers in the enclosed first class compartment, but which one…?
It should be a happy time for Kitty and Matthew as they make preparations for their wedding but instead they find themselves investigating another murder. There are a limited number of suspects due to the circumstances of the closed carriage compartment. However their prime suspect becomes the next victim, leading to further plot twists.
I continued to enjoy the romance and respect between Kitty and Matthew. The peripheral characters were easy to discern and had unique personalities. This book had the very classical feel of an Agatha Christie novel, with a capsule cast and the sleuths unpicking the truths and motives.
Meanwhile, Kitty's ongoing quest to find out what happened to her mother continues as she attempts to visit the prison where the villainous Hammett is being held. This plot thread has been woven through all of the previous books and, now he is in custody, a resolution may be imminent.
Murder in First Class is an enjoyable historical cosy murder mystery and I love the lead characters.

MEDIA PACK
Book: Murder in First Class
Author: Helena Dixon 
Pub Day: Feb 16th 2021 
About the Book: 
All aboard a train bound for… murder.
Kitty Underhay is looking forward to a week of long lunches and wedding planning with her husband-to-be, Captain Matthew Bryant. But the plan is derailed when he is called on to collect a former comrade-in-arms, arriving on the 15:50 from Bakerloo. As the train bearing Simon Travers pulls up to the platform, a piercing scream rises over the screech of its brakes. Travers is dead in his seat, a dagger in his heart.
Who gave this defenceless man a one-way ticket to the next life? And why? And could Matt's close connection put him at risk? Only a few individuals had access to Travers's compartment, and Kitty must find out which of these seemingly benign passengers is in fact a cross-country killer.
But when Kitty's prime suspect, the travelling salesman with no merchandise, is found murdered, she is stumped. Until she makes the connection between the two victims and realises that this murderer has an even more deadly destination in mind. Can she stop them before they strike again? Or will Kitty's own next stop be the graveyard?
A pitch-perfect and totally gripping Golden Age historical cozy mystery! Perfect for fans of Agatha Christie, T.E. Kinsey and Lee Strauss.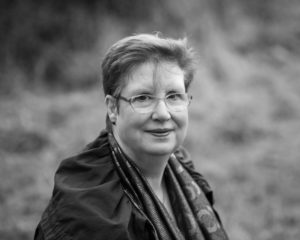 Author Bio
Helena Dixon was born and continues to live in the Black Country. Married to the same man for over thirty years she has three daughters, a cactus called Spike, a crazy cockapoo and a tank of tropical fish. Helena was the RNA winner of the Romance Prize in 2007 and Love Story of the Year 2010.
Social Media