Sophie and Hector head to Scotland to visit her parents. They pass Gretna Green and thoughts of marriage are swiftly replaced by the reality of murder when a chance encounter is followed by a death. A series of incidents follow and the couple start to fear they are in danger…
Murder in the Highlands is the 8th book to feature Sophie Sayers but it is the first book I have read by this author. It works perfectly as a stand alone but now I am keen to catch up on the earlier books as this one was so good!
Sophie and Hector work together in his bookshop and he buys a book as a gift for her mother. This has disasterous consequences! On their way to see her parents in Scotland, they encounter another bookseller, but while they visit the services, their new acquaintance is murdered in the car park. There is little detail about the murder so this book falls firmly into the cosy murder mystery genre.
Next, Hector seems to become exceedingly accident prone as a series of events result in injury. I loved the build up of incidents. It is quite clear from the outset that the mum's book is special is some way and someone is trying to wrestle it away from Hector. The loved up couple are blissfully unaware and almost in denial about the dangerous incidents that threaten their trip. I wanted to shout at the pair to realise what was happening and go to the police!
I found the explanation behind the attacks a little convoluted and far fetched, but until then the book was excellent and I can't wait to catch up with Sophie and Hector's earlier adventures as well as looking forward to future events.
Murder in the Highlands is a very enjoyable cosy murder mystery.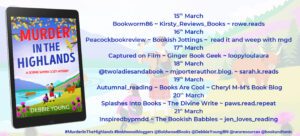 Murder in the Highlands
Sophie and Hector are heading to the Highlands.
For Sophie it's a trip home and for Hector it's time to meet Sophie's parents… Though their trip has village tongues wagging about a stop at Scotland's notorious elopement spot, Gretna Green.
No matter what, it'll make a nice break from the murder and mayhem that has been plaguing their beautiful Cotswolds village. But Sophie and Hector are barely on the road before they're being hassled by reckless drivers and at their first rest stop a body is discovered.
Then comes a series of 'accidents' that leave poor Hector a little worse for wear. Is someone after Hector? Who could even know he was in the Highlands?
Accidents or not, can they find some way to keep Hector safe?

Author Bio –
Debbie Young is the much-loved author of the Sophie Sayers and St Brides cosy crime mysteries. She lives in a Cotswold village where she runs the local literary festival, and has worked at Westonbirt School, both of which provide inspiration for her writing. She is bringing both her series to Boldwood in a 13-book contract. They will be publishing several new titles in each series and republishing the backlist, starting in September 2022.
Social Media Links –