TRIGGER WARNING: suicide, infidelity
Claudia's life in turned upside down when she believes her husband has cheated on her and her best friend kills herself. But what led to Jaz's death and can Claudia save her marriage…?
My Best Friend's Secret is a psychological thriller set in the UK.
The book centres around a group of friends who reunite at the funeral of one of their number. Jaz was closest to Claudia but something happened on that final night that lead to the women not speaking. Meanwhile Claudia is also dealing with her suspicion that her husband cheated on her and this leads to her angry response which threatens their whole relationship.
It is difficult to review without giving away spoilers but I will say that the plot sets up Claudia as our main character and she is struggling emotionally. This initially leads to an emotional pull towards her but her ensuing actions do not endear her to the reader.
There is significant emotion and turmoil in this book as well as the mystery about what led Jaz to her death. Claudia feels guilt and regret over messages she left for her best friend and another of their friends is acting oddly. The blurb reveals a major shift in the direction of the book as the pace intensifies.
My Best Friend's Secret is a tense and emotional charged puschological thriller.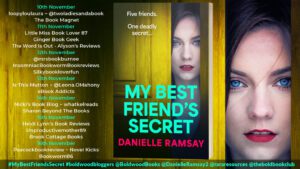 My Best Friend's Secret
Five women; pretty, privileged, perfect, and ultimately protected… but not for long…
It was 'their' dark secret. For twenty-two-years 'they' kept it buried. Time hasn't healed my wounds. Instead, they've festered. Their actions went unpunished. Until now…
Shamed, scarred, and shunned, I watched, waited and plotted how to shatter 'their' enviable lives. Now, finally, they will suffer as I did in 'their' cruel hands that fateful night.
Time's up. I am here for you, Dr Claudia Harper. But first, you'll witness your childhood friends, one by one, beg for mercy.
And I've saved the best 'til last, so watch your back; I'm closer than you think. I'm here to expose your best friend's secret. The one you've all kept hidden…until now.
A tale of betrayal, dark, twisted lies and long-awaited retribution. Perfect for the fans of Claire McGowan, Shalini Boland and S. E. Lynes
Author Bio –
Danielle Ramsay is a Scot living in a small seaside town in the North-East of England. Always a storyteller, it was only after completing a First Class (Hons) Degree in Media Production that she then went on to follow an academic career in literature. She was shortlisted for the CWA Debut Dagger in 2009 and 2010, and appointed a New Writing North Read Regional author in 2011.
She is the author of five DI Jack Brady crime novels and The Last Cut, a dark thriller with DS Harri (Harriet) Jacobs. Danielle fills her days with horse-riding, running and murder by proxy.  She is also the proud Patron of the charity SomeOne Cares, which counsels survivors of domestic violence, rape and child abuse.

Social Media Links –