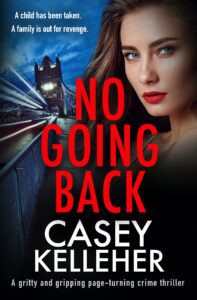 Ashley Cooke is determined to prove himself to his pregnant wife Shelby, the daughter of gangster Pete Baker. But he turns to the Boland brothers for a loan he can't repay. Shelby is viciously attacked which triggers an early labour. Were the Boland brothers and Ashley reponsible and will any of them be safe from the wrath of Pete?
No Going Back is the third book to feature DC Lucy Murphy and the notorious Griffin estate. I have previously reviewed the previous books in the series: No Escape and No Fear.
This case gets much too personal for Lucy as it brings back a huge heap of emotions as her own mother was murdered while pregnant. Lucy is anxious to prevent other families going through what she has experienced and is utterly dedicated to catcthing the killer before any more pregnant women can be attacked.
Lucy's personal life inevitably features heavily in this case which has such similarities to her own mother's murder. She has the dilemma of remembering the killer's face from 20 years ago and now has to determine whether to search for him. This is confused by her grandmother's health and concern for her wellbeing that could be negatively affected by reoprning the case. There is further development of Lucy's professional relationships and a potential romance…
The characters created by Casey Kelleher are just so realistic because the writing is so good. I felt like I could understand the motivations of every single person in the book whether I could relate to them myself or found them repugnant. Each character was multi dimensional and had nuances to their behaviour and personalities.
The case is brutal and obviously attacks on pregnant women is very emotive. There is also gang related violence but this is not gratuitous or prominent. The plot and setting are compelling due to their authenticity.
No Going Back is gritty, emotional, thrilling, tense and excellent!
I have also reviewed The Forgotten by Casey Kelleher.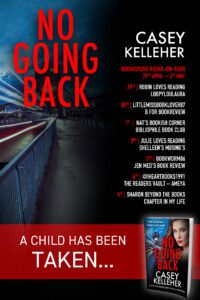 MEDIA PACK Info Sheet
Author:     Casey Kelleher
Book:                   NO GOING BACK
Publication Day:  April 29th 2021
Description:
A child has been taken. A family is out for revenge.
Riley Cooke is just one day old when he is stolen from the hospital. His young mother, Shelby, is beside herself. DC Lucy Murphy and her team face a race against time to find the vulnerable baby and bring him home – before the child's grandfather, fearsome gangster Pete Baker, takes matters into his own hands.
Pete is sure he knows who's behind baby Riley's abduction, and he thinks they ought to pray Lucy finds them before he does. Because someone is going to pay dearly for causing this much pain to his family.
They say never stand between a gangster and his target. But that's exactly what Lucy must do – because if Pete is wrong, innocent blood could flow.
A shocking and addictive read that will keep you turning the pages. Fans of Martina Cole, Kimberley Chambers and Emma Tallon will love this.

Author Bio:
Born in Cuckfield, West Sussex, Casey Kelleher grew up as an avid reader and a huge fan of author Martina Cole.
Whilst working as a beauty therapist and bringing up her three children together with her husband, Casey penned her debut novel Rotten to the Core. Its success meant that she could give up her day job and concentrate on writing full time.
For all news and updates:
Twitter: @caseykelleher