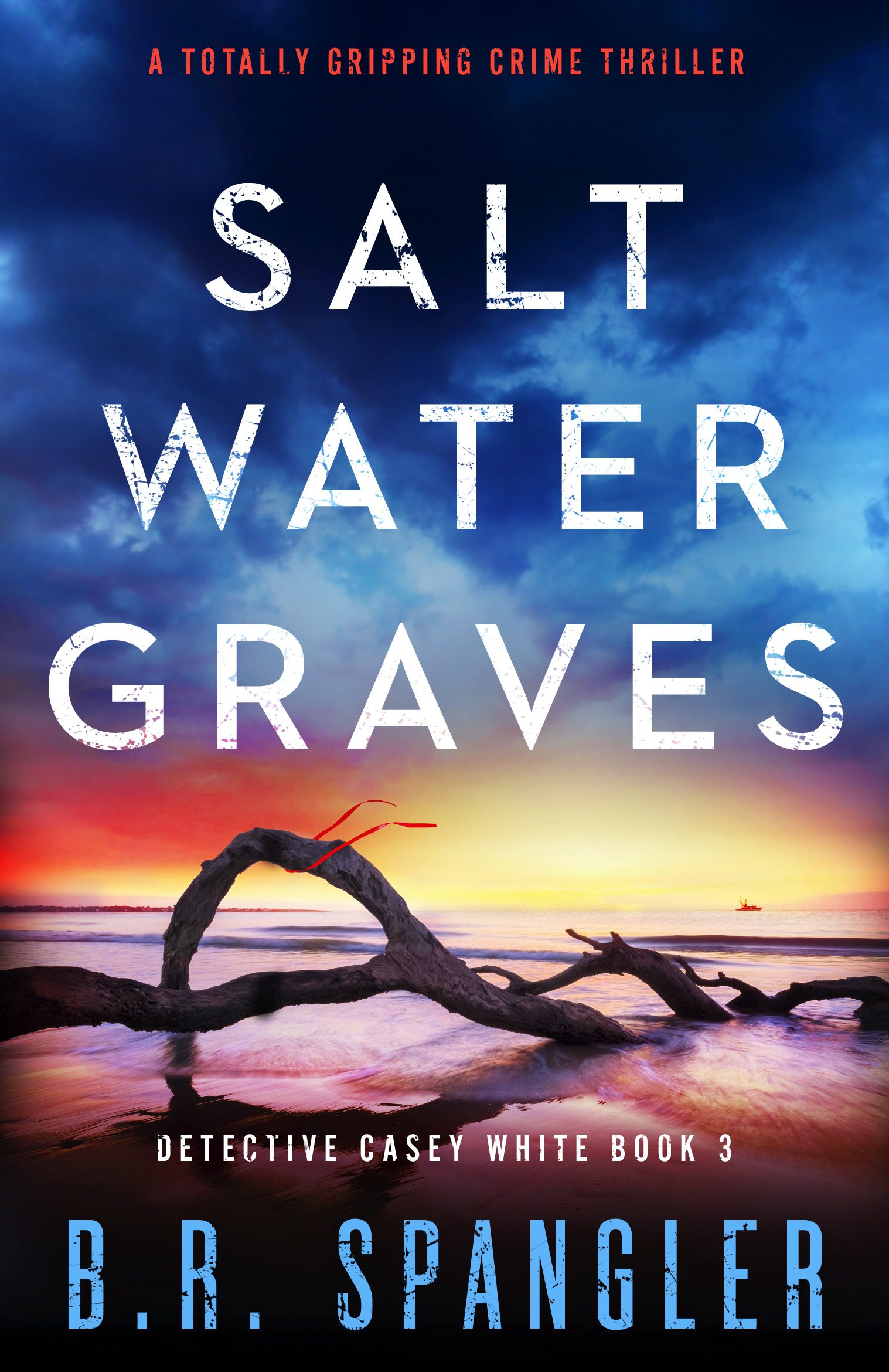 Exciting changes for Detective Casey White and her lover Jericho Flynn as they move forward with their relationship. But the spectre of his first wife's murder hangs over the couple, especially when dead women wash up on the beach.
Saltwater Graves is the third book to feature Casey. It isn't necessary to have read the first books and there aren't spoilers about the previous cases to ruin your reading if you choose to go back and read Where Lost Girls Go and The Innocent Girls after this one.
Casey's personal happiness of the opening chapters is quickly tarnished by the murder investigation. The bodies are described in forensic detail but this is not too graphic.
Most of the plot is delivered through Casey's first person narrative. This is an excellent way of making us identify with her and follow the clues of the case. It also allows us to see her emotions and fear as the investigation progresses and her lover Jericho becomes the main suspect.
Other parts of the book are written from the third person perspective and we see the killer and his victims interacting, as well as Paige Kotes who is in prison for the murder of Jericho's wife. These alternative viewpoints give us a feeling of anticipation and tension as we prepare for more murders.
The chapters are short and the varying perspectives allow the twists of the plot to move along quickly. The ending is dramatic and leaves lots of potential for another sequel as Casey's life is changed personally and professionally.
Saltwater Graves was a hugely enjoyable police thriller. I loved the personal nature of the case and look forward to catching up with Casey in the next instalment.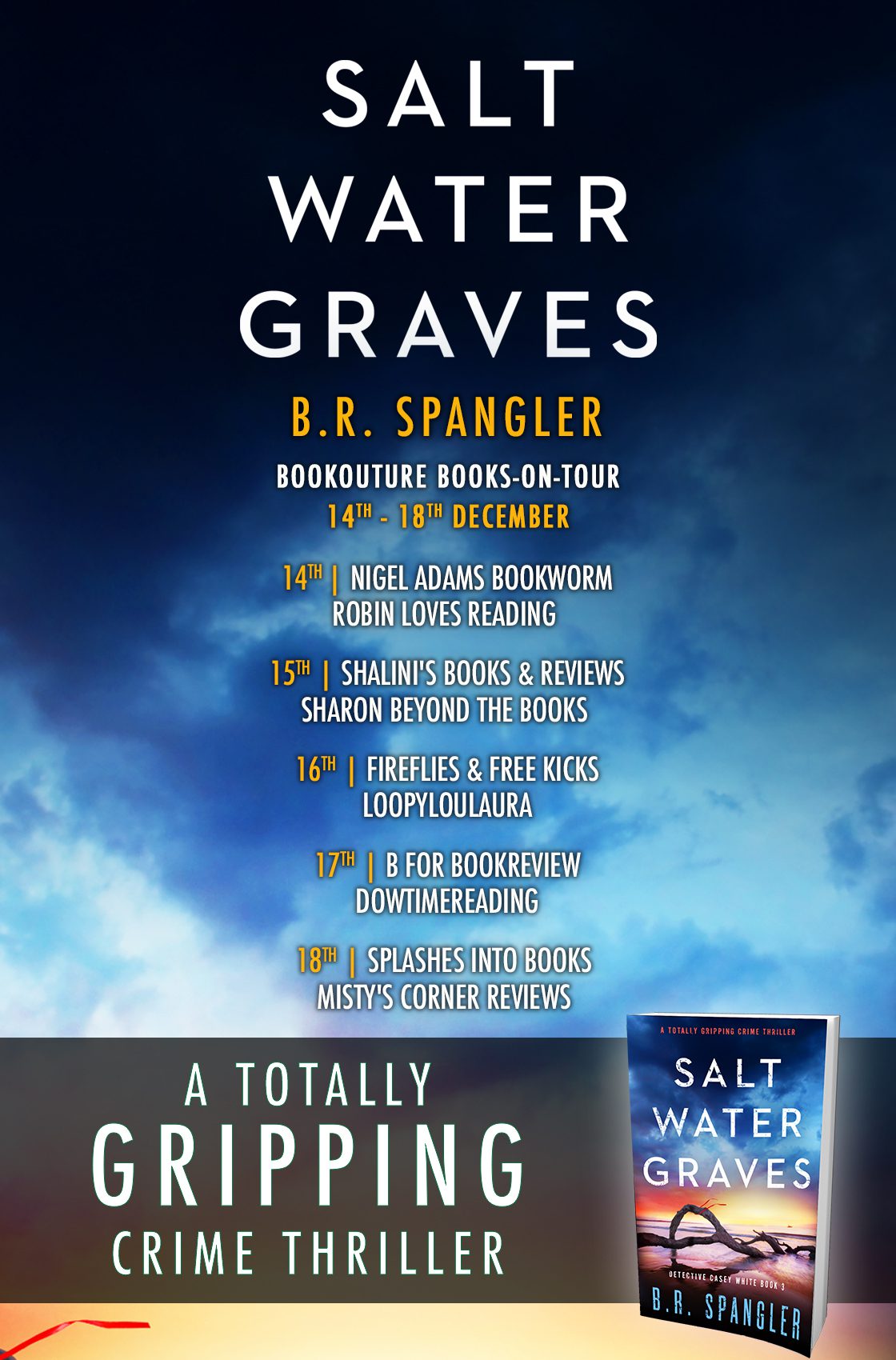 BR Spangler Media Kit:
Title: Saltwater Graves
Author:  BR Spangler
PUBLICATION DAY: Dec 14th 2020
BUY LINK:
Description:
Plunging under the cold ocean surface, her long blonde hair drags in the current and she frantically kicks towards the light. With her arms and legs tied she is helpless. As water fills her lungs, she has just one regret. She never told anyone about her date.
On a lonely stretch of coast at daybreak in North Carolina's Outer Banks, Detective Casey White is shocked to find the drowned body of a much-loved local woman, Ann Choplin, her beautiful face covered with specks of sand. The green and white rope binding her wrists reveals the terrifying truth that this innocent mother's death was no accident.
With the incoming tide flooding the scene and swallowing all evidence, Casey's team has nowhere to turn… but it's Casey who realizes this beach will be devastatingly familiar to her partner, ex-sheriff Jericho Flynn. His wife was found murdered here years ago, thrown into the ocean alive just like Ann. But the twisted and jealous woman guilty of that crime has been in prison for years.
Days later, another woman is found drowned on the same beach, her wrists tied. Casey fears a copycat killer is on the loose, playing a deadly game with Jericho by digging up the horrors of his past.
Certain that finding a link between these women will crack the case, Casey works through the night digging into their lives and finds an old photo of the two victims at school together, smiling in their cheerleader uniforms. But cold betrayal floods Casey as she sees Jericho in the background. She'd thought it was safe to let him into her life, but he never once mentioned he knew the victims. What other secrets is he hiding?
When a coil of green and white rope is found in his garage, Casey's whole team is convinced that the mounting evidence is stacked against Jericho. But with Casey's instincts screaming that Jericho could never hurt anyone, it will mean risking her own career—and her life—to clear his name. If she's wrong, she is placing her trust in a killer… but if she's right, more innocent women are in terrible danger.
An absolutely unputdownable crime thriller, with twists and turns that will leave you breathless. Fans of Robert Dugoni, Kendra Elliot and Rachel Caine will be addicted.

Author Bio:
B.R. Spangler here. I'm a resident of Virginia along with my family, five cats, two birds, a hamster, and a lizard. During the day, I work as an engineer and spend my off hours writing, editing, and thinking up the next great story.
I split my time across pen names, writing crime thrillers, science fiction, horrors, paranormal and contemporary fiction.
Author Social Media Links:
To keep up to date, sign up for his newsletter by copying and pasting this link into your browser: https://brspangler.com/sign-up/