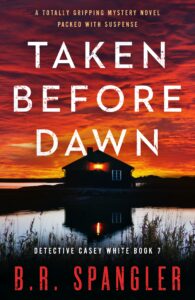 One of their team goes missing and then a body is discovered. Detective Casey White's latest case takes her back to murders from 10 years ago. Could the Midnight Killer really be back?
Taken Before Dawn is the 7th book in the Casey White detective series, set in the US.
Assistant medical examiner Samantha vanishes after a night out and Casey fears the worst when a body is discovered. The injuries on the body instantly remind Casey of a series of murders from a decade earlier so she heads to her old office to dig out the case files and reconnect with former colleagues. She hasn't forgotten the killer and he hasn't forgotten her either…
The pace is fast as the plot quickly develops. Casey's investigation puts her into direct danger and the first person narrative makes the urgency and fear spring to life vividly. There are some forensic details but they are not extreme, and some violence (including torture) which is relevant to the plot and appropriate to the genre.
This book would work as a standalone but there are continuations of personal plot threads from previous books such as Casey's search for her kidnapped child and her relationship with Jericho.
Taken Before Dawn is a gripping detective and serial killer thriller.
Media Kit:
Title: Taken Before Dawn
Author:  BR Spangler
PUBLICATION DAY: Sept 23rd
BUY LINK:
Description:
The early morning light illuminates the girl's ivory skin. Little cuts are carved into her cheeks—one under each eye. But her body is still. The perfectly round wound above her heart has stopped it beating forever…
When 
Detective Casey White

 is called to a murder scene on an empty stretch of coastal road, her whole team is in a panic. Could the body be their missing colleague 

Samantha

? The promising investigator was last seen two days ago, going home after an evening of dancing with friends. Her family are beside themselves with worry.
Casey's relief is short-lived when she sees the short dark hair of another woman. 
Pauline Rydel

 has been missing for a week. Devastated that anyone would take this innocent life, and terrified Samantha will be next, the tear-shaped cuts on the victim's face make Casey's heart stop. She's seen these marks before…
On one of her very first cases a murderer known as the Midnight Killer stole young women in the darkest hours, kept them alive for seven days, and abandoned their bodies at dawn. Casey was seconds away from catching him when she made a deadly mistake that's haunted her ever since. After all these years, is he back?
Knowing every second counts, Casey is pouring over forensics when another body is found. This time, markings on the back of the victim's neck spell out Casey's name.
With everyone in this small community scared for their daughters' lives, Casey must face up to the past in her most personal case yet. 
But even if she sacrifices herself, will it be too late to save one of her own?
An utterly addictive thriller that fans of Kendra Elliot, Lisa Regan and A.J. Rivers won't be able to put down

!

Author Bio:
B.R. Spangler is a USA TODAY Bestselling Author of Mysteries and Crime Thrillers.
A resident of Virginia with a wonderful family, including five cats, two birds and a lizard. During the day, the hours are filled with engineering work. Off hours, time is spent writing, editing, and thinking up the next great story.
With too many stories to write, books are split across pen names, writing crime thrillers, science fiction, horrors, paranormal and contemporary fiction.
To keep up to date, sign up for the BRSpangler newsletter by copying and pasting this link into a browser: https://brspangler.com/sign-up. No spam will ever get sent, just some random musings or a heads up on when the next book is published.
Author Social Media Links:
To keep up to date, sign up for his newsletter by copying and pasting this link into your browser: https://brspangler.com/sign-up/