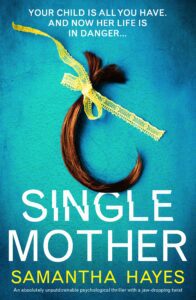 Melanie Douglas is a single mum with a violent ex in prison, desperately trying to make ends meet as she cares for their daughter Kate. She receives a letter offering her an inheritance yet she was abandoned as a baby: does she have a secret family and can she protect herself from her dangerous ex?
The Single Mother is Mel, a vulnerable woman who is very likeable and struggling to cope financially and emotionally. She has had an unhappy life, abandoned as a newborn and growing up in foster homes so she is determined to give her own daughter love and security. But her ex Billy is in prison for a variety of crimes including domestic violence.
Mel's vulnerability makes her someone that readers will feel warm towards especially as she continues to face hardships. I felt myself being distrustful of the other characters in the same way that she is: her past is very emotive and affects her relationship with her daughter which then in turn creates a fear when dealing with others.
The plot device of the unexpected inheritance provides Mel with opportunities but also concerns. She gets the chance for a fresh start but there are secrets hinted at by the locals as well as the mystery of who her benefactor is. Added to this is the hope of new love as Mel and Tom grow closer but the past continues to haunt her happiness.
I did not find Single Mother very credible but it was certainly enjoyable and I think it would make a great psychological drama on TV. I found myself emotionally invested in Mel and willing her to find happiness to counteract the loss she has felt all her life. The final chapter has some big reveals that will make you reconsider some parts of the plot and the characters themselves.
I have previously reviewed other books by Samantha Hayes including: The Happy Couple

and

 The Liar's Wife.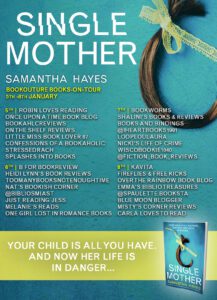 Single Mother book description:
I will do anything to protect my daughter. She's all I've ever wanted and all I really have, but the moment I opened that letter and accepted the inheritance, I walked us right into a dangerous trap.
I know I should have got her to tell me who she's been talking to on the phone late at night, and where she was the day I went to pick her up from school and couldn't find her, but she's not spoken a word since she found that little pile of bones buried in the garden.
And now she's missing…
A jaw-dropping, addictive and totally twisty psychological thriller that will have you sleeping with the light on! Perfect for anyone who loved The Girl on the Train, Friend Request or The Wife Between Us.
Author Bio:

Samantha Hayes grew up in a creative family where her love of writing began as a child. Samantha has written eight thrillers in total, including the bestselling Until You're Mine. The Independent said "fantastically written and very tense" while Good Housekeeping said "Her believable psychological thrillers are completely gripping." Samantha's books are published in 22 languages at the last count.
When not writing, Samantha loves to cook, go to the gym, see friends and drink nice wine. She is also studying for a degree in psychotherapy. She has three grown-up children and lives in Warwickshire.
Buy Links: