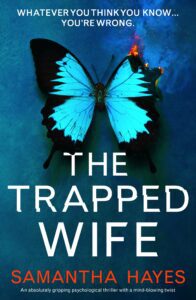 TRIGGER WARNING: this book contains child murder, rape and domestic abuse
GP Jennifer Miller is adjusting to life as a widow when she discovers she is pregnant. The baby is the result of a drunken night out so she is shocked when the father appears in her consulting room. Scott soon forces his way into Jennifer's life and makes it clear he is here to stay…
The Trapped Wife is a dark and sinister psychological thriller. The atmosphere is created in a  really effective way but it is also relentlessly unpleasant. It is compelling reading with fabulous twists.
The book is written from three perspectives: Jen in the first person in the present day, her best friend Rhonda in the third person also in the present day, and a deeply unhappy boy in the past as a third person viewpoint. This variety of perspectives is a creative way of giving us glimpses into the lives of different characters.
Jen's life has been in turmoil for months as she suspected her husband was having an affair. Out at a conference, she got drunk and had a one night stand which may not have been consenual but is now pregnant and having flashbacks about the night of the conception. Her husband disappeared during an avalanche and now her potential rapist has tracked her down and is blackmailing her.
It is a very intense plotline, further escalated by the chapters set in the past. A boy, Evan, is living with domestic abuse and is desperately unhappy at school. He finally makes a friend and they set up the Kill Club with tragic consequences.
Author Samatha Hayes does an amazing job of creating multiple possibilities in the readers' minds as we try to figure out the connections between the past and present. I doubt anyone would fully guess the ways that all the strands weave together!
The Trapped Wife was a gripping novel but tackles big issues that were sometimes difficult to read about. I have previously reviewed other books by Samantha Hayes including: Single Mother, The Happy Couple and 

The Liar's Wife

.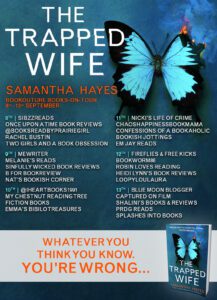 The Trapped Wife book description:
The rain hammers the glass outside. My husband has stoked the wood burner with a fresh supply of logs, and I've just put a joint of beef in the oven. It's the most clichéd Sunday afternoon ever, and it's the most heavenly one, too. Little do I know that days later, the ash in the fire will be all that remains of us…
My perfect life…
I thought I had it all – a dream job as a doctor in small town, a stunning home and a family I adore – but that illusion shattered the moment my husband Jeremy left on a work trip and vanished without a trace. Now my son and I are all alone in the world.
My missing husband…
My best friend thinks Jeremy had an accident up in the mountains, that I'll never see him again and need to move on. I know he loves us too much to ever abandon us, but my head is still spinning with the texts I found on his phone before he left. Did I ever really know the man I married?
The night I can't remember…
Everything changed the night of the medical conference weeks before Jeremy disappeared. I wrack my brains for answers, but my memory goes blank after my first drink. Ever since, I've felt like I'm being followed and can't explain why panic thunders in my chest every time I see my newest patient. If he's not local to the village, then why does he seem so familiar? And so dangerous?
As I piece together the shards of what really happened that fateful evening, only one thing can possibly be true: everyone is lying, even me…
Author Bio:
Samantha Hayes grew up in a creative family where her love of writing began as a child. Samantha has written eight thrillers in total, including the bestselling Until You're Mine. The Independent said "fantastically written and very tense" while Good Housekeeping said "Her believable psychological thrillers are completely gripping." Samantha's books are published in 22 languages at the last count.
When not writing, Samantha loves to cook, go to the gym, see friends and drink nice wine. She is also studying for a degree in psychotherapy. She has three grown-up children and lives in Warwickshire.
Buy Links: