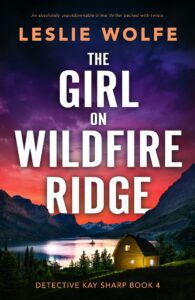 A teenage girl Jenna is found dead with terrible sexual assault injuries that she endured prior to her murder. Former FBI profiler Kay Sharp is determined to catch the killer but the investigation leads her to review her own family history…
The Girl on Wildfire Ridge is the 4th book to feature Detective Kay Sharp. It would work as a stand alone novel and there are no spoilers about previous cases.
Kay is greatly affected by this case as the victim is so young. There is plenty of evidence and the pathology and police departments are kept busy. They find evidence of date rape drugs and a disturbing website that could have been responsible for a significant personality change in the victim over the months before her death.
Then there is the added dimension of the link to her past which she tried to keep quiet and this distances her from her partner Elliot. The pair are both denying their feelings for each other so this further delays any advances to their relationship. Kay's past is not resolved in this book leaving potential for further developments in later books.
The book is written in the third person throughout. The opening chapter shows the victim's final moments but the majority is the police perspective. There are also some viewpoints from Jenna's friends and other teens which raise suspicions about the background of the case..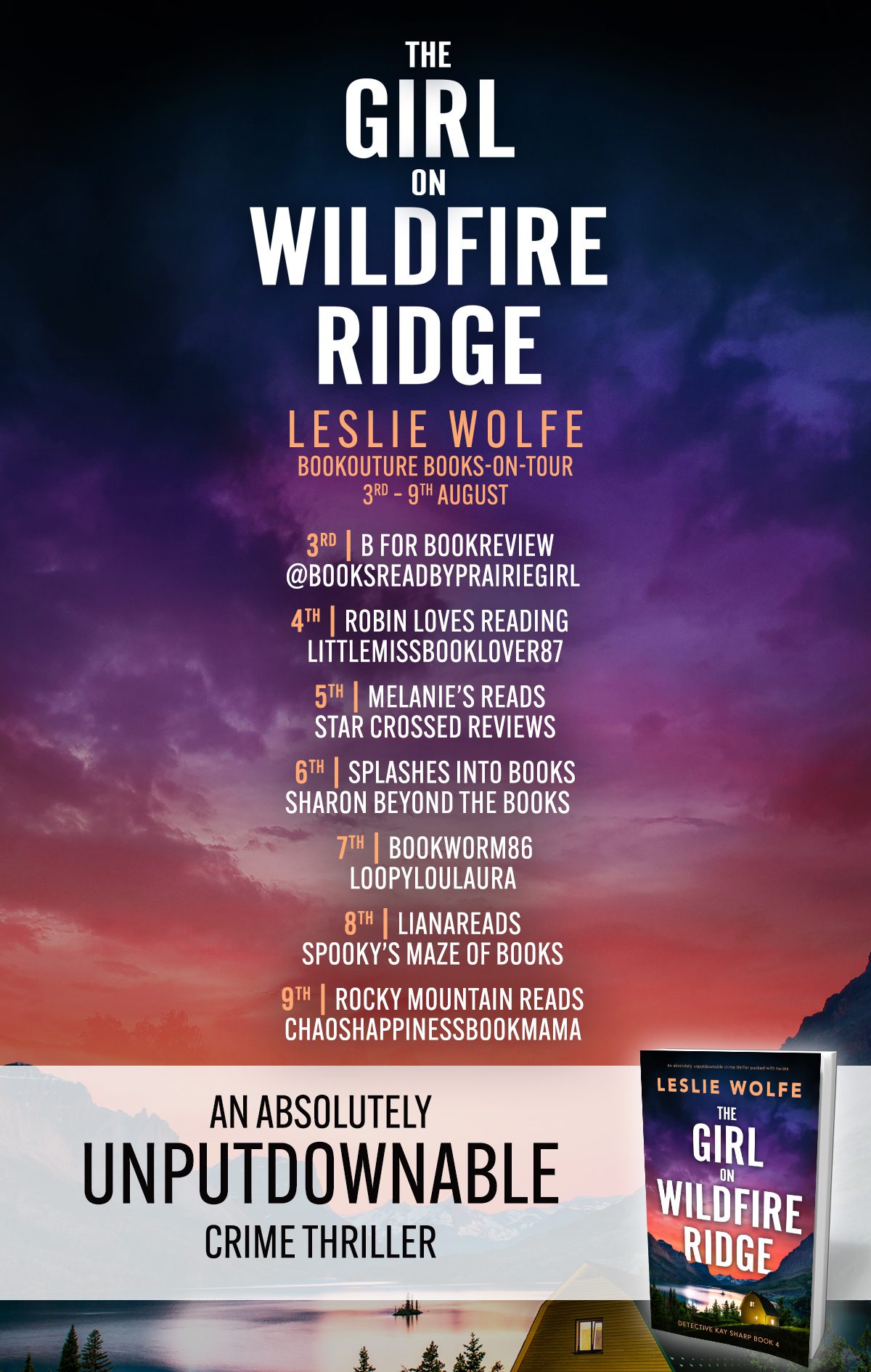 Media Pack
Author:     Leslie Wolfe
Book:        The Girl on Wildfire Ridge
Publication Day:  August 3rd 2022
Buy link(s) 
Audible:
Description:
Her face, beautiful even in death, gazed open-eyed at the azure sky. Brown, silky hair fanned around her head, bringing out the pallor of her skin. Her lips were slightly parted as if she was still breathing, as if she was whispering her goodbyes.
On a hot summer's day, the sleepy town of Mount Chester is thrown into turmoil when seventeen-year-old local girl Jenna goes missing. Within hours, the case takes an agonizing turn when her body is discovered in the isolated mountains.
Detective Kay Sharp rushes to the scene, hiking for miles to the base of Wildfire Ridge. From the markings on Jenna's body, it's clear that she was brutally murdered. Near the victim, Kay finds a butterfly-shaped hair clip with a set of fingerprints that could be a vital clue.
In the hunt for the truth, Kay turns the small town upside down. She learns that Jenna changed dramatically over the past months, no longer the popular girl who always wore a smile on her face. Kay is certain whatever happened to Jenna recently must be the key to her death.
When forensics from the butterfly hair clip comes back, the fingerprints don't match Jenna's. Then Kay makes a breakthrough that turns her blood to ice. Jenna was in contact with someone linked to Kay's own past—and the secret she has spent the last sixteen years burying. If the truth comes out, it could destroy her.
With the clock ticking, and every minute critical, Kay is up against the toughest case of her career. Can she risk everything to confront the past she has been running from, and save another innocent girl before it's too late?
Thrillers don't get more addictive than this! You'll race through this gripping page-turner, your heart pounding, as you're hit with twist after twist. Perfect for fans of Lisa Regan, Karin Slaughter and Rachel Caine.

Author Bio:
Leslie Wolfe is a bestselling author whose novels break the mold of traditional thrillers. She creates unforgettable, brilliant, strong women heroes who deliver fast-paced, satisfying suspense, backed up by extensive background research in science, technology, and psychology. Her engaging writing style and addictive story lines have made Leslie one of the most read authors in the genre.
Leslie Wolfe lives in Florida with her husband, "the Wolfe," and their dog. She enjoys engaging with her readers every day, exchanging emails and Facebook postings.
Author Social Media Links