Farmer Gwenna takes in a German Jewish girl who managed to escape to Britain. Lotti's mother died on the journey and her father has possibly been deported to a camp. The little girl is mute and scared but the situation intensifies when Gwenna is assigned Germn POWs to work on the farm…
The Girl With The Yellow Star is an historical novel set during WW2.
Our hearts are instantly captivated by the sadness of Lotti's young life. She saw her dad hauled away and now her mother dies in a terrible accident. Gwenna is determined to give the little girl love and stability but has no experience of children. She has her own heartache at her failed marriage followed by widowhood.
The social and gender norms of the era make Gwenna stand out. She is a widow running a farm and people doubt her knowledge, strength and morals. I really liked her character and was eager for her to defeat the odds and survive in a male dominated world.
I enjoyed the tension and mixed emotion that surrounded the issue of German POWs as this has not been covered in other WW2 books that I have read. Gwenna's husband died earlier in the war and she struggles to see beyond the mantle of enemy that they bear. Yet Max is her only chance to help settle Lotti so she has no choice but to trust him.
The characters have careful nuances which make them more realistic. Gwenna in particular has a range of subtle layers that are developed over the course of the book. I felt that Lotti was quite immature but perhaps this is intended due to the traumatic start in life she has had.
The Girl With The Yellow Star is an emotional historical novel with a unique angle on WW2.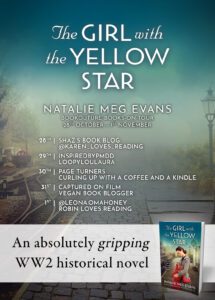 MEDIA PACK
The Girl with the Yellow Star: An absolutely gripping and heartbreaking WW2 historical novel
"We have to wear the yellow star! It's the rules!" the little girl sobs. But her mother presses a desperate finger to her mouth. "Darling, today is different. We are going to leave our stars behind and go on a long journey. We must be very, very quiet, and pray nobody finds us until we are safe in England…"
Cornwall, England, 1943. When her husband is killed fighting in the Navy, grief-stricken Gwenna Devoran tries to fill the void in her life by offering shelter to two Jewish refugees in her farmhouse high on the Cornish cliffs. But at the train station, ten-year-old Lotti is waiting all alone in her neat red coat.
Lotti's mother died protecting her on the journey. Now Gwenna is all this little girl has. Traumatised Lotti won't speak a word: and when an order comes for German prisoners-of-war to work the farm she's in more danger than ever. What will happen if the Germans find out Lotti is Jewish?
When Gwenna overhears Lotti chattering happily to German captain Max Reiner, showing him her teddy bear, her heart stops. Shocked to hear Lotti finally speak, Gwenna is terrified for the little girl she's grown to love. But perhaps she can she trust the kindness in this German officer's gentle voice and bright blue eyes…
As Lotti heals a little more each day, Gwenna risks everything to spend more time with Max, certain he doesn't believe in the Nazi cause. But then a rumour starts in the village: Max himself fired the torpedo that killed Gwenna's husband.
Devastated, Gwenna's heart is torn between loyalty to her country, the memory of her husband, and love for the little girl she secretly hopes could become her own. With Max desperate to prove his innocence, does she dare to trust him? And should she fight for the three of them to become a family – or will the war tear them all apart?
An absolutely heartbreaking, gripping and beautiful story about how love shines brightly even in the darkest times, and the incredible sacrifices people make in wartime. Fans of The Nightingale, All the Light We Cannot See and The Tattooist of Auschwitz won't be able to put this down.

About the author
Natalie Meg Evans has been an art student, actor, PR copywriter, book-keeper and bar tender but always wanted to write. A USA Today best-seller and RITA nominee, she is author of four published novels which follow the fortunes of strong-minded women during the 1930s and 40s. Fashion, manners and art are the glass through which her characters' lives are viewed. Each novel is laced with passion, romance and desire. Mystery is never far away.
An avid absorber of history – for her sixth birthday she got a toy Arthurian castle with plastic knights – Natalie views historical fiction as theatre for the imagination. Her novels delve behind the scenes of a prestige industry: high fashion, millinery, theatre, wine making. Rich arenas for love and conflict. Most at home in the English countryside, Natalie lives in rural Suffolk. She has one son.
Author social media