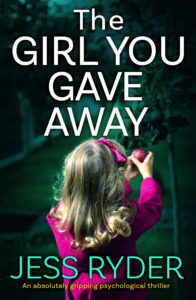 It seems a little strange to review this book on Mother's Day as it has such a powerful theme about motherhood.
Erin was just 14 when she became pregnant. She was forced to give away her baby daughter and hid her secret from her husband and children. On her 40th birthday, her long lost daughter delivers a card which sets off a chain of events that are dark and dangerous…
This was a very emotional book. The grief that Erin feels at the adoption of her child is heart wrenching. Author Jess Ryder, give us Erin's perspective in the first person, in the present day and in the 1990s when she became pregnant. This show us her character in a sympathetic light and shows her vulnerability, guilt and love for her daughter.
Jade is a much more complex character. Whilst she is deserving of some sympathy, she isn't particularly likeable and her actions are disturbing. This is countered by her learning disabilities but I do not feel this should be an excuse for her actions.
I would have liked a bit more of a conclusion to the book. It ends with a note of hope for the family including Jade, but I wanted extra explanation about the state of Erin's marriage.
The twists in the plot are excellent and frequently surprised me as I thought I anticipated what was coming up but then was proved wrong. As well as the emotions generated by Erin's story, there is a high level of psychological drama due to Jade's actions and unpredictability.
Take a look at my review of The Dream House, also by Jess Ryder.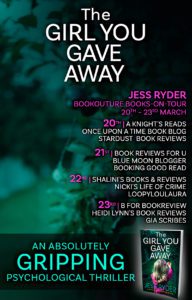 Jess Ryder Media Kit:
Title: The Girl You Gave Away
Author:  Jess Ryder
Publication Day 20/03/2020
Buy  Links :
Description:
All she wanted was the life they had…
It is the day of Erin's fortieth birthday party. Pink and silver balloons drift through her garden, the platters of food are empty and the recycling is overflowing with empty wine bottles.
As Erin mingles with groups of family and friends, surrounded by love and laughter, she feels like the luckiest woman alive. She has no idea what fate has in store …
Then a little red envelope lands on the doormat and everything changes.
Inside is a birthday card from somebody she never dreamed would get in touch. Its message is a chilling reminder of the dark past that Erin has worked so hard to bury, a past that could put her precious family in terrible danger…
A gripping, spine-chilling read brimming with secrets and lies. If you loved The Girl on the Train or The Woman in the Window then this dark, twisting psychological thriller from bestselling author Jess Ryder is guaranteed to have you gripped.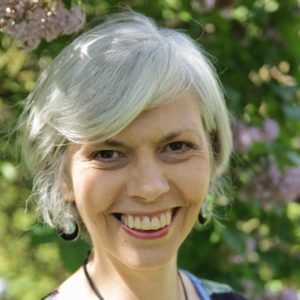 Author Bio:
Jess Ryder is the author of five psychological thrillers – 'The Ex Wife', 'Lie to Me', 'The Good Sister', 'The Dream House' and her latest, published March 20 2020 – 'The Girl You Gave Away'. All titles are published by Bookouture. She also writes as Jan Page, with many books published including 'Selina Penaluna'. With many years' experience as a scriptwriter, she loves watching television crime drama. Jess is a passionate reader and particularly enjoys thrillers.
Jess lives with her partner in London, UK and has four grown-up children.
Author Social Media Links: