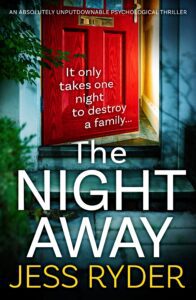 Amber is finding motherhood tricky. Her sister offers to babysit so that Amber and her husband George can have a night away. They have a wonderful time and the followign weekend they go away again leaving Ruby in charge once more. But when Ruby wakes, baby Mabel has vanished…
The Night Away was an excellent psychological thriller. I found myself completely immersed in the plot and loved the twists and turns. The style of writing is engaging and fast paced, and had me devouring this book in just a few hours.
Amber is a likeable character but she has been keeping secrets from her family including her husband. She has been finding it tough to cope with the way her life has changed since becoming a mum and I think that most parents will identify with her emotions.
Her sister Ruby has always felt second best and is desperate for approval. The two sisters have not been close but they have had a warmer relationship since Mabel's birth. Now the trust has been shattered as Ruby is blamed for the kidnapping.
I liked the way author Jess Ryder lets us see the first person perspective of the abductor. It reassures the reader that Mabel is safe yet raises questions about the links with the family. I'm not sure that I found the conclusion totally convincing but it was a brilliant psychological thriller.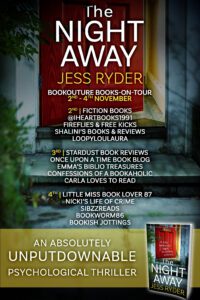 The Night Away book description:
It was just one night away. I had no idea how devastating it would be…
My sister said I deserved a break. She offered to babysit so that my husband and I could have one night away, remember who we used to be before the sleepless nights.
But the next morning my phone rings. My sister is hysterical. Mabel's cot is empty. My little girl is gone.
I race home with a horrible sick feeling flooding my stomach. The little sleepsuits still hang on the radiator but there is no gurgling or cooing on the baby monitor – just silence.
Now the police are questioning everyone. My sister, my husband, the girls from my baby group.
I want my little girl back more than anything and I will do whatever it takes. But I have a secret… Could the darkness in my past have put my baby at risk?
A truly gripping psychological thriller of manipulation and betrayal from bestselling author Jess Ryder. The Night Away will have you hooked until the final devastating revelation. Perfect for fans of The Girl on the Train or The Woman in the Window.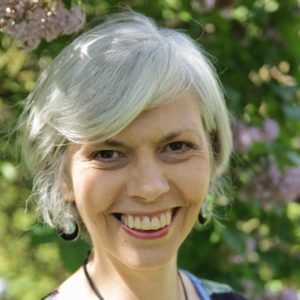 Author Bio:
Jess Ryder is the author of five psychological thrillers – 'The Ex Wife', 'Lie to Me', 'The Good Sister', 'The Dream House', The Girl You Gave Away' and her latest, published November 2 2020 – 'The Night Away'. All titles are published by Bookouture. She also writes as Jan Page. With many years' experience as a scriptwriter, she loves watching television crime drama. Jess is a passionate reader and particularly enjoys thrillers.
Jess lives with her partner in London, UK and has four grown-up children.
Buy Links: