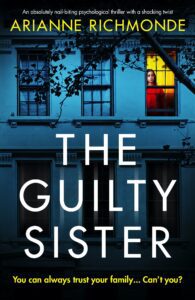 Sara lives a quiet, almost reclusive life in New York. She is an artist so works from home, only venturing out to walk her 'handi-capable' dog Poppy. Bradley is a high flying executive with a string of broken hearts in his wake. The pair meet and begin a fledgling relationship but are both keeping secrets from the other?
The Guilty Sister is a psychological thriller about the secrets in a new relationship.
Sara is a twin and this has affected every aspect of her life. But now she has a chance to be herself, a whole, not part of a pair unless she chooses the relationship. And she chooses Bradley. He makes a huge effort with her but she is haunted by her past and her twin.
The book is written from Sara's first person perspective in the past (three months ago) and present, and Bradley in the third person in the past. There are also odd chapters from other perspectives to provide external opinions on the couple. We are drip-fed little snippets of Sara being interviewed by the police in the present day but are then left guessing about the relevance to events in the past.
There is mounting tension in the book as the two timelines edge closer together. I had suspicions about the secrets that Sara and Bradley are hiding but gradually found myself liking both of them and hoping for a happy ending: I won't tell you if they got one! They both have vulnerability which adds a depth to their flawed personalities so that readers can identify with them.
The plot and characters wind together wonderfully and I became immersed in their story very early on. It is the kind of book where your brain keeps rushing ahead trying to join the dots to complete the picture. I think the tension was successfully created and maintained throughout the book.
The Guilty Sister is an enjoyable thriller with two strong lead characters. I have previously reviewed The Newlyweds and The Wife's House by Arianne Richmonde.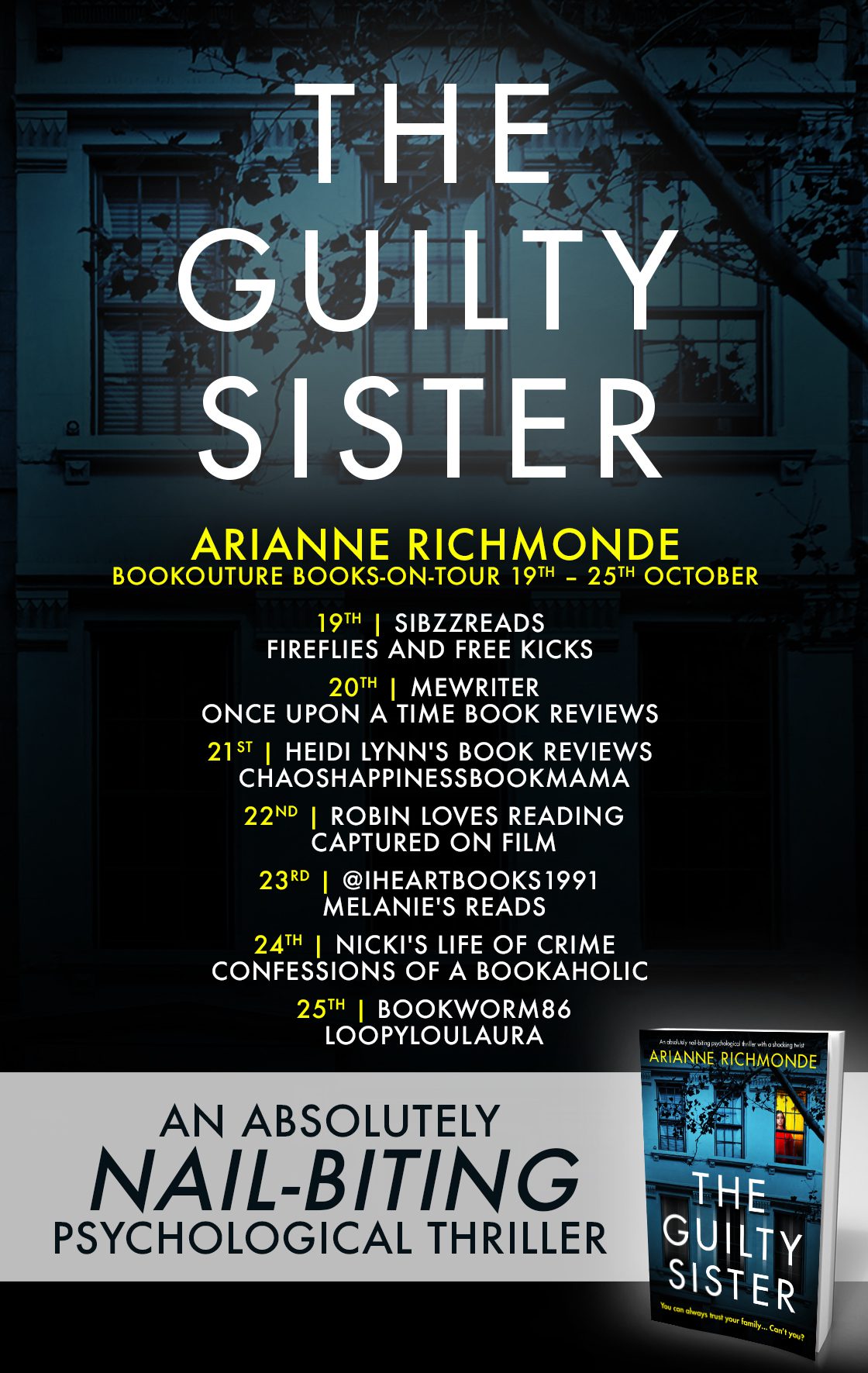 MEDIA PACK
Book: The  Guilty Sister (previously titled One Happy Family) 
Author: Arianne Richmonde 
Pub Day: Oct 19th 2021
Buy Links: 
Audible:
About the Book: 
My sister is missing. And the police think I'm to blame.
We haven't always seen eye to eye, but I do love my sister Cece. She's confident and free-spirited in a way I never am. And while she's living her life to the full and posting it all over social media, I'm having early nights in my tiny New York apartment.
I didn't mean to keep her a secret from my boyfriend, Bradley. But when he found out about her and I caught him scrolling through her pictures online, I knew I had to act before she ruined my life once again.
When the police come knocking at my door, I instantly regret wishing Cece would leave my life for good.
I didn't want her to vanish forever, did I?
If you enjoy gripping psychological thrillers like The Girl on the Train, Gone Girl and The Wife Between Us, you will love this totally addictive novel from a USA Today bestselling author.

Author Bio
Arianne Richmonde is a half British, half American, USA TODAY bestselling author, who lives in France with her husband and four-legged family. Surrounded by vineyards and sunflower fields in an old stone farmhouse they restored, she fills her days creating twisty novels full of suspense and intrigue. When she isn't writing she loves to travel, especially to warm, exotic countries, all in the name of research. She used to be an actress so likes nothing more than to immerse herself in the minds and lives of her characters.
Social Media