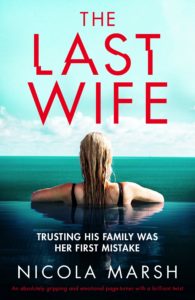 I was hooked and enthralled from the first page! The Last Wife is a story about love, lies, money and power.
Ria's husband walked out on her and her daughter 5 years ago but she has remained close to her mother in law and frequently attends family gatherings.
The Parker family are all hiding secrets and Ria is emailed with details which could ruin their carefully maintained social status. She is eager to find the source of the emails but it involves finding her estranged tech genius husband…
The narrative is divided amongst the female characters so that we gain insight into their perspective of the events as they unfold.
Ria is by far the most pleasant character and it is fascinating to compare how the women appear to others compared to how they represent themselves. In particular, Ashlin appears to be a thoroughly selfish, nasty woman but from her viewpoint we discover her insecurities and vulnerability.
Threaded through the brilliant character exploration is the element of mystery. What secrets are they hiding from the rest of the family and what are the implications once revealed?
Family tensions are central to the plot, and the way that author Nicola Marsh writes her female characters allow us to understand and empathise with them, even when they are not nice people.
I'm not sure I was completely convinced by the ending but I enjoyed The Last Wife so much that it didn't matter, and my overall verdict is 'wow'!
Read my review of Nicola's previous book The Scandal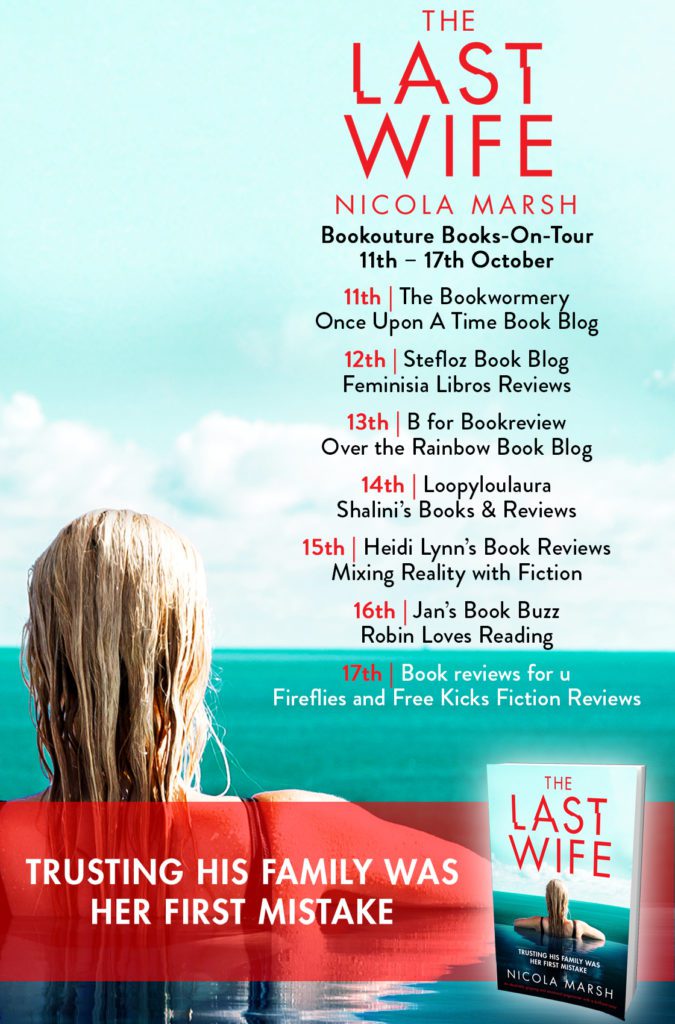 Publication Day Media Kit
Title: The Last Wife     
Author:  Nicola Marsh
Publication Day: 11/10/19
Buy Links:         
Description:
Trusting his family was her first mistake.
All Ria ever wanted was a family. Growing up alone in foster care, she imagined just how it would be. So when she fell in love with Grayson and had their daughter Shelley, she was determined to make his family love her too. She knew she'd never fit in with her glamorous sisters-in-law, or at the exclusive picture-perfect Chicago parties her mother-in-law threw, but with Grayson's arm around her waist she tried her best to be a Parker.
Everything changed when Grayson disappeared.
Until one morning, Grayson leaves the house for work and never comes home. Left to raise Shelley alone, Ria is forced to turn to her husband's family, to let her intimidating mother-in-law into her life, allow her to babysit Shelley, and accept her financial support. She tries to ignore the feeling that her sisters-in-law never thought she was good enough. They say they have no idea what happened to Grayson, and she tries very hard to believe them.
But Ria is about to learn that every Parker wife has secrets.
And protecting her daughter might come at a terrible price…
Utterly compelling, The Last Wife is an emotionally-charged novel about what one woman will do to survive. Perfect for fans of Liane Moriarty, Kerry Fisher and The Other Woman.

Author Bio:
USA TODAY bestselling & multi-award winning author Nicola Marsh writes feel-good fiction with a twist!
She has published 68 books with Harlequin, Amazon and indie, and sold over 8 million copies worldwide.
She currently writes women's fiction/rural romance for Harper Collins Australia Mira imprint, emotional domestic suspense for Bookouture and contemporary romance for Harlequin Dare.
Her first mainstream contemporary romance, BUSTED IN BOLLYWOOD released to rave reviews, including a nomination for RWA's RBY, Romantic Book of the Year.
Her first indie-pubbed contemporary romance CRAZY LOVE is an Amazon and Barnes & Noble bestseller, and was nominated for an ARRA award.
Her women's fiction novel SAVING SARA with Lake Union hit the #1 kindle romance spot on Amazon UK.
Her young adult fantasy SCION OF THE SUN won a National Readers' Choice Award for Best YA novel.
She's also a Waldenbooks, Bookscan and Barnes & Noble bestseller, a RBY and National Readers' Choice Award winner, is a multiple finalist for awards including the Romantic Times Reviewers' Choice Award, HOLT Medallion, Booksellers' Best, Golden Quill, Laurel Wreath, More than Magic and has won several CataRomance Reviewers' Choice Awards.
A physiotherapist for 13 years, she now adores writing full time, raising her two dashing young heroes, sharing fine food with family and friends, barracking loudly for her beloved North Melbourne Kangaroos footy team, and her favourite, curling up with a good book!
Social Media links: