On her 40th birthday, Stella is shocked when her husband announces that he wants to separate. He drops her off at a new house but Stella refuses to accept that the marriage is over. There are secrets the couple have kept for 15 years and her husband now threatens to reveal them…
OK, so I am actually reviewing this on my own 40th birthday which is kind of weird: I can't imagine my day turning out in the same way! OMG the shock that Stella faces after lunch on her special day!
The Marriage Lie is a tense domestic thriller with a psychogical edge. It's about the disintegration of Stella and Rob's marriage in tandem with the revelations of the past they share and have concealed. From the start, there is an edginess to their interactions and it is clear that Rob has been controlling the relationship from the start.
Stella is confused and scared about the past, present and future. Added to this is the emotional dimension of wanting to protect their daughter, her stepdad's cancer, and the tangled relationship with her sister and mother. There are clues throughout the first half of the book as Rob makes thinly veiled threats. I think it was pretty obvious what the big twist would be and I also guessed another secret.
The first person narrative allows us to identify with Stella as her disbelief overwhelms her. There are chapters to show events in the past and how she has allowed Rob to control all aspects of her life. I wanted to shout at her to stand up to him but when she does respond in anger he threatens her with allegations of abuse to force her compliance. Rob is cruel and selfish and had me mad at him from the first page!
The Marriage Lie is a compelling and emotional read that will have you rooting for the lead character. I have previously reviewed other books from Ali Mercer including: My Mother's Choice, His Secret Family, and Lost Daughter.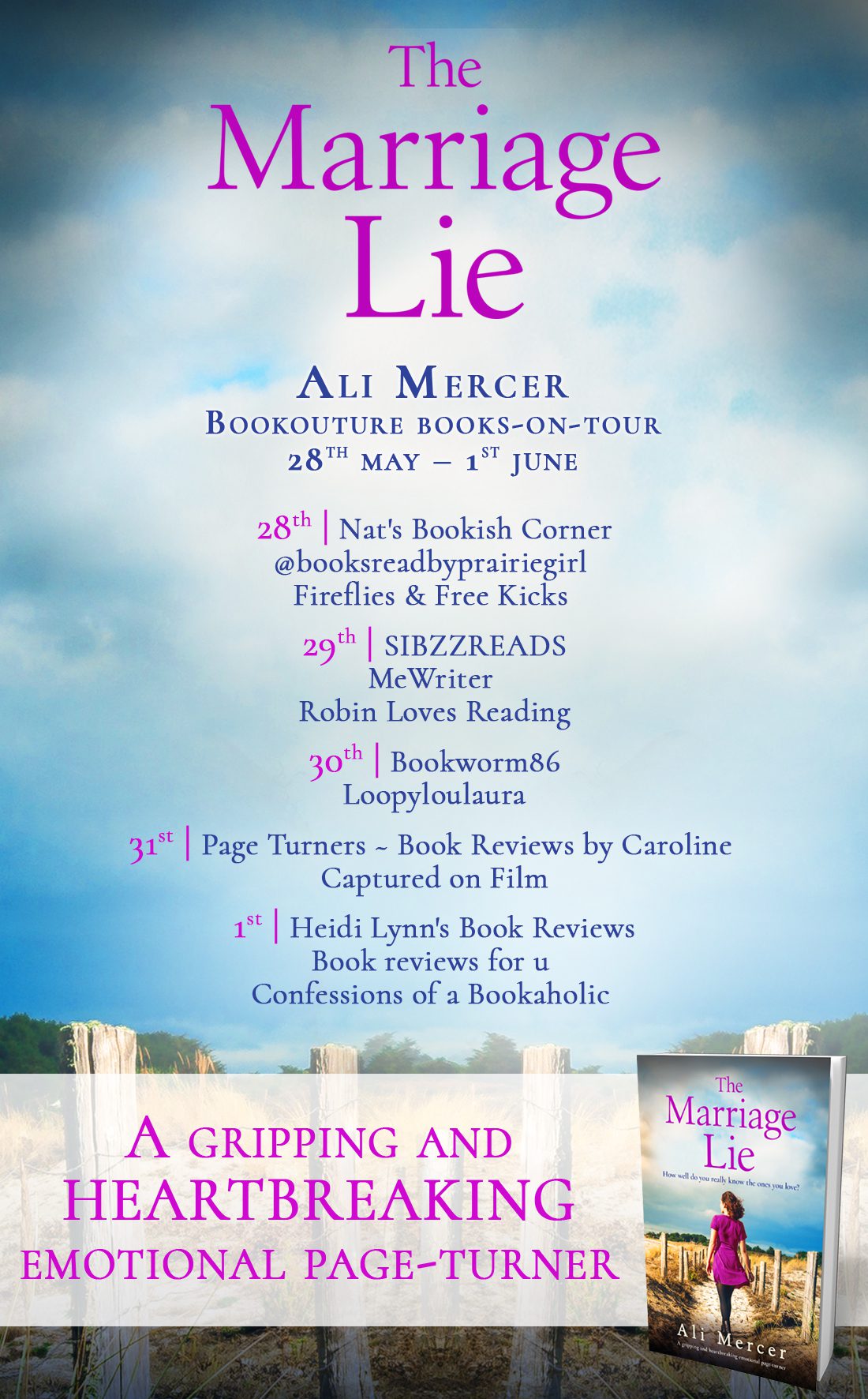 Ali Mercer Media Kit:
Title:  The Marriage Lie
Publication Day:  28/05/21
Author:   Ali Mercer
Buy Links:
Description:
My husband is asking me to do the impossible. But if I don't do what he wants, he will tell our daughter everything…
Stella follows her handsome husband Rob to the beautifully laid-out table in the restaurant he's chosen specially for her fortieth birthday lunch. As the waiter pops the champagne, Rob proposes a toast and their crystal glasses clink together in celebration. Stella knows how they must look to anyone watching. Two people very much in love, with the perfect marriage and the perfect life.
But Rob is about to drop a bombshell on Stella. He wants a divorce.
If she doesn't give him exactly what he wants – the house, the money and full custody of fourteen-year-old Georgie – he will tell their precious daughter the one secret Stella has worked so hard to protect her from.
Stella has a choice to make. To fight for her daughter, there is only one person she can turn to for help. Someone she hasn't spoken to in over a decade. If she doesn't, Rob will win. But to do it means facing up to her biggest regret, and risks losing Georgie forever, once she learns the truth…
An absolutely heart-breaking and gripping novel about the price of keeping a secret. Fans of Amanda Prowse, Kate Hewitt and Susan Lewis will be gripped by this emotional family drama from the very first page.

Author Bio:
Ali decided she wanted to be a writer early on and wrote her first novel when she was at primary school. She did an English degree and spent her early twenties working in various jobs in journalism, including as a reporter for the showbusiness newspaper The Stage. Ali started writing fiction in earnest after getting married, moving out of London to the Oxfordshire market town of Abingdon and starting a family. She has two children, a daughter and a son who is autistic and was diagnosed when he was four years old.
Ali is fascinated by families, their myths and secrets, and the forces that hold them together, split them up and (sometimes) bring them back together again. She always travels with tissues and a book and has been known to cry over a good story, but is also a big fan of the hopeful ending.
Author Social Media Links:
For updates and pictures, follow Ali on Twitter (@AlisonLMercer) or Instagram (@alimercerwriter), or on her Facebook page (AliMercerwriter)