Madison and her fiance Cooper Douglas return to his home town to have their wedding and start their married life together. But Madison is shocked to discover the town's negative attitude towards Cooper due to the death of his high school sweetheart Celia. It was ruled an accident but could his family have used their wealth and influence to cover up a murder?
Madison is a tenacious journalist but has now turned her attentions to organising her wedding and solving the mystery about her fiance's dead girlfriend. She is loyal to Cooper and determined to prove his innocence.
Meanwhile we also see Helena's perspective. She is convinced that Cooper killed her daughter and will stop at nothing to get justice. Some chapters are delivered as flashbacks to Celia's final hours before her death in 2006 and it becomes clear that there have been secrets hidden by the influential Douglas family.
I enjoyed Madison's journey of discovery as she tries to reconcile her kind hearted fiance with the cold blooded killer image he has in town. She is also trying to negotiate new relationships with her in laws, a stressful experience that most people will be able to identify with!
The style of writing is easy to read and the plot is fast paced. There is great misdirection and some fantastic twists that I had not expected at all. Overall, The One Before is an intriguing thriller.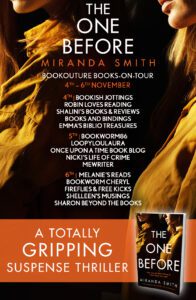 Book Description:
I love him. I trust him… But what if I'm wrong?
Whisper Falls is a fresh start for Madison and her fiancé Cooper. The safe, quiet town on the shores of a beautiful lake is the perfect place to spend the rest of their lives.
But then Madison learns that Cooper's high-school girlfriend Celia disappeared after a party. Three days later, her body was found in the lake.
And the town thinks it wasn't an accident.
Madison loves Cooper, but she can't help wondering. She has to know the truth.
But if she starts asking questions, what other secrets will be revealed? Will she meet the same fate as the woman who came before her?
A dark, gripping psychological thriller with a brilliant twist, The One Before is perfect for fans of Karin Slaughter, Gillian Flynn and Rachel Caine.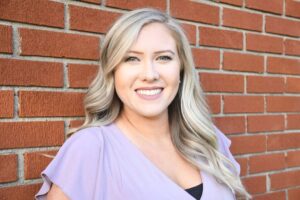 Author Bio:
Miranda Smith writes psychological and domestic suspense. She is drawn to stories about ordinary people in extraordinary situations. Before completing her first novel, she worked as a newspaper staff writer and a secondary English teacher. She lives in East Tennessee with her husband and three young children.
Buy Links: