Rebecca's best friend Nicole tragically dies but she is not convinced that it was as straightforward as an accident or suicide. Was her seemingly perfect husband Richard to blame in some way?
Rebecca fights her emotions to become Richard's lover and the line between her investigation into Nicole's death and her own love life become blurred. Richard has a daughter Olivia but is she quite what she seems?
We, as readers, get to see various different viewpoints through the bok including Nicole through flashbacks to the past. We make discoveries along with Nicole and Rebecca as they find that their ideal man is actually not  so perfect. The parallels between the past and the present are a really clever device for allowing the plot to unfurl.
There is a big plot twist just over two thirds of the way through the book and although I had anticipated it, it didn't spoil my enjoyment of the book, instead making me feel a bond with the author.
I absolutely loved this book for the most part but I did not like the ending and found it a bit of a letdown compared with how brilliant the rest of the book was. I felt that the actions of Rebecca in the final chapters did not quite follow what we had learned of her character throughout the rest of the book.
The characters in the book are captivating as we get to see inside their heads and understand their experiences. The plot is quite fast paced and it is definitely a page turner.
This is the second of Sheryl's books I have read and I look forward to her next one!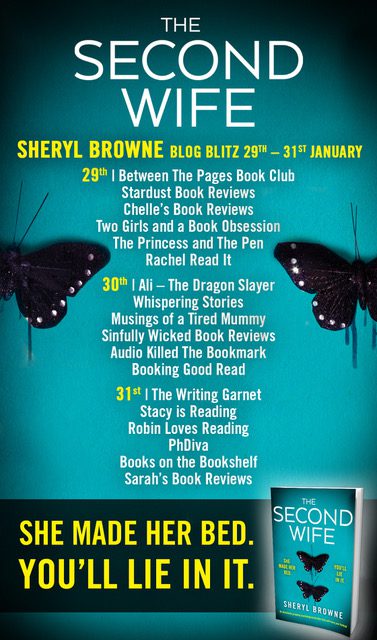 The Second Wife: An ab
solutely gripping psychological thriller that will have you hooked
Buy Links: 
She made her bed. You'll lie in it.
Rebecca only wanted to help out – to be kind.
Richard seemed so alone after his wife, Nicole, died, and Rebecca wanted to make sure he knew he had someone to rely on.
But now she's in Nicole's immaculate house. Drinking from her favourite crystal wine glass. Keeping shoes in her orderly closet. Comforting her sweet and grieving step-daughter. It feels like Rebecca is living another woman's life.
And as she gets to know the neighbours, Rebecca hears stories that make her wonder: was free-spirited Nicole happy in this perfect life, or did she feel trapped? Did she feel, as Rebecca is beginning to, that something wasn't quite right?
The book everyone's talking about! If you loved The Girl on the Train, The Wife Between Us and The Girl Before, you'll be totally gripped and unable to put down this twisty page-turning psychological thriller.
About the author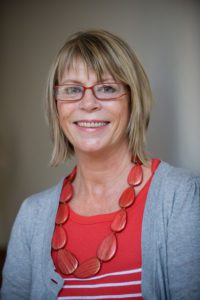 Bestselling Author, Sheryl Browne, brings you powerful psychological thriller and contemporary fiction.  A member of the Crime Writers' Association and the Romantic Novelists' Association, and previously writing for award winning Choc Lit, Sheryl has several books published and two short stories in Birmingham City University anthologies, where she completed her MA in Creative Writing.
So why does Sheryl write in two genres? Quoting E. L. Doctorow, Sheryl says: "Writing a novel is like driving a car at night. You can only see as far as your headlights…" This she thinks sums up a writer's journey, you never quite know where you are going until you get there. You might start with an outline, but a strong character will always divert from the plot. If Sheryl's not sure where a character is going, she simply has to trust him to show her the way. Plus, according to one reviewer, she also has a scary insight into the mind of a psychopath.
To find out more about Sheryl's novels, go to www.facebook.com/SherylBrowne.Author/ or follow @SherylBrowne on Twitter.