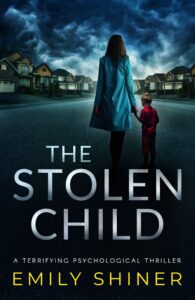 Eliza is a blogger on the brink of a huge career. But she has a secret, and super fan Bethany threatens to reveal it to the world…
The Stolen Child is a psychological thriller set in America in the present day.
We are shown alternative viewpoints in the first person of both Eliza and Bethany. Eliza has tried to do the right thing so we immediately ally with her. Bethany seems to have mental health problems which lead to an obsession. Her reasoning makes sense but she goes beyond the norm.
I was fascinated by the premise of the book. So much of our lives is on social media so we seem to know others through what they post. We know from the prologue what Eliza's secret is and due to the honourability of it we side with her. However, the fact that she keeps it hidden shows that she knows how it would be viewed. Bethany has a skewed viewpoint and her desperation is very sad and deluded, yet becomes increasingly dangerous.
I enjoyed the alternating viewpoints for giving us such specific insight into the main characters. Eliza's moral dilemma and Bethany's behaviour are interesting as they unfold and the tension grows as the plot develops. The danger and power balance between the pair continually shifts over the course of the book.
The Stolen Child is an entertaining psychological thriller.
Book Blurb
She has hundreds of adoring fans. Only one wants to be her best friend.
Eliza has the perfect life. A beautiful home, a hugely successful blog, a loving husband and two adorable children.
Bethany barely scrapes by in a dead-end job. Her only happiness comes from reading Eliza's blog. Obsessed with her, she believes they're destined to be best friends.
But Eliza doesn't want another friend . . . especially one as pushy as Bethany. Because Eliza is hiding a family secret. One that would shatter her entire world if it was ever revealed.
Rejected and furious, Bethany starts stalking Eliza. And, as she watches her every move, Bethany discovers Eliza's secret and threatens to expose it.
But Eliza will do whatever it takes to protect her perfect life. Even if it means getting rid of Bethany . . . forever.
The Stolen Child – the gripping psychological thriller from the best-selling author of The Secret Wife and Her Perfect Life.

Author Bio
Emily Shiner always dreamed of becoming an author but first served her time as a banker and a teacher. After a lifetime of devouring stacks of thrillers, she decided to try her hand at writing them herself. Now she gets to live out her dream of writing novels and sharing her stories with people around the world. She lives in the Appalachian Mountains and loves hiking with her husband, daughter, and their two dogs.
Follow her at: