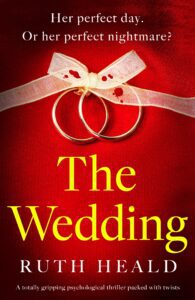 Lauren and Adam are planning their dream wedding. But then strange things start to happen and someone is hinting that there are secrets. A doll in a slashed wedding dress. A message that says 'he doesn't love you'. And Adam IS keeping a stalker patient a secret…
The Wedding begins with Lauren on her wedding day but things haven't gone to plan. We then go back in time to the build up to the wedding. The chapters are written in the third person from Lauren and Adam's perspectives. We also see events from Adam in 2001 at the start of the relationship.
It is supposed to be the happiest time of Lauren's life but her emotions are already on edge following the tragic deaths of her parents, estrangement from her sister and a miscarriage. Now she feels threatened and niggling doubts about Adam's honesty and fidelity add to the mix.
Lauren and Adam are both keeping secrets. She has been harbouring feelings of guilt (what was her involvement in her parents' deaths?) while he has kept quiet about his troublesome patient. He also failed to mention his one night stand with his best friend back when they were at university.
The chapters are quite short so the plot develops quickly. I liked this fast pace for creating a relentless series of actions that threaten the wedding. I had a big idea about the potential twist a third of the way through and it was then fun to watch events unfold. It didn't bother me at all that I'd guessed the twist (it actually made me feel quite clever!)
The Wedding was an entertaining psychological thriller that I could easily imagine being adapted for a TV drama.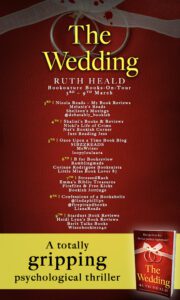 Just four words were printed in the card. He doesn't love you.
I've been dreaming about this day – marrying Adam, my childhood sweetheart, who I've loved for eighteen years.
I didn't realise the perfect day would turn into the perfect nightmare.
I was so excited to send out the wedding invitations, carefully writing everyone's names on thick cream paper in beautiful cursive script.
I had no idea I was inviting someone to destroy our marriage.
I couldn't wait to say 'I do' surrounded by loved ones clinking champagne glasses.
I couldn't imagine that one of them would try to hurt me.
It was meant to be the first day of the rest of our lives.
I never thought it would be the end of my life as I knew it.
We were meant to share our vows, to toast our future. But when the truth comes out, shocking the onlooking guests and ripping my heart out, is a happy ever after possible?
A completely gripping and totally addictive read that will get your blood pressure rising and send shivers down your spine. Fans of Date Night, The Sister-in-Law and The Girl on the Train will devour this twisty, dark and gasp-worthy page-turner in one swift gulp!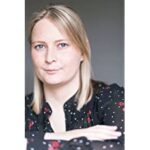 Author Bio:
Ruth Heald is a psychological thriller writer from a suburban Buckinghamshire town. She studied Economics at Oxford and then worked in an eclectic mix of sectors from nuclear decommissioning to management consulting.
Seeking a more creative environment, she found a role at the BBC and worked there for nine years before leaving to write full time. Ruth is fascinated by psychology and finding out what drives people to violence, destruction and revenge. She's married with one daughter and her novels explore our greatest fears in otherwise ordinary, domestic lives.
Buy Links: