Felicity Wheeler returns to her hometown following the tragic death of her sister Holly. She finds herself the guardian of her sister's children. Amidst her own grief and that of her nieces, Felicity is determined to prove that her sister's death was not an accident. But she has her own past to battle as well…
The Woman in the Water is a gripping psychological thriller about the mystery surrounding a woman's death and the secrets of the past.
Felicity has been on the run from her past for over a decade. She left her hometown in disgrace but now feels compelled to return to her family and hometown to care for her nieces and comfort her mother. She is confronted by the smalltown prejudice which drove her away in the first place but she is stronger emotionally now and fights back.
Felicity is sure that Holly's death was no accident. Her guilt at their estrangement leads her to search for answers which then puts her in danger too. Along the way she reunites with old friends and addresses the past but also unsettles secret enemies who want to quiet her accusations.
The book is written in Felicity's first person narrative of 'before' and 'now'. This allows us to see and understand her responses to events in both the past and present. The 'before' part was not chronological and there was one conversation that I got confused about where it fitted in the order of events. The mystery behind Felicity's past wasn't a surprise but I felt it was little ambiguous.
There is a slightly spooky element to the book as the setting of the abandoned fairground in the swamp. The dark, dangerous and insidious nature of the water is very atmospheric and creates an oppressive vibe which replicates Felicity's emotions in response to being home.
The Woman in the Water was an engaging psychological thriller with a big dose of spookiness as well. I have previously reviewed The Silent Girl,

The Fortune Teller's Promise

 and The Girl I Thought I Knew by Kelly Heard.

MEDIA PACK
Book: The Woman in the Water 
Author: Kelly Heard
Pub Day: July 22nd 2021
Buy Links 
About the Book: 
I know my sister didn't die by accident. Does someone know our secret?
I swore I'd never go home to Brightwater. It would be safer for everyone if I stayed away.
But now my sister is dead, and I am driving down the familiar highway, watching the sunlight glimmer off the lake, with the memory of her green eyes like a knife in my heart.
I know Holly didn't slip and drown out by the old boardwalk, surrounded by trees and dark water. She would never have gone there, if she had a choice.
Her little girls need me now. I couldn't save Holly, but I must protect them.
Because if whoever killed Holly knows what we did all those years ago, out on the water, then I need to find them before they come after me.
But how can I, when there are still so many things I don't know about what really happened that night?
An absolutely gripping, twisty psychological thriller about secrets between sisters that will keep you turning the pages late into the night. Perfect for fans of The Girl on the Train, The Woman in the Window and The Silent Patient.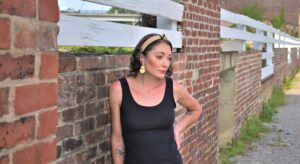 Author Bio
Kelly Heard is a novelist from Afton, Virginia. She published poetry in literary magazines before signing her debut novel, Before You Go, with Bookouture.
Kelly prefers writing to most other pastimes, but you'll occasionally find her in the garden, hiking, or exploring antique shops.
For more updates, follow Kelly on Twitter: @kheardbooks
Social Media