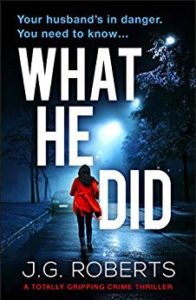 Successful newsreader Maddy is on air when she discovers that her husband has been in a serious car crash. Was it an accident? Is it linked to her daughter's ex boyfriend who threatened him the night before? Is there a connection with his former friend's suicide? Or was Maddy herself the target, it was her car after all…
It becomes clear when another man is murdered that there is a link with an incident in Portugal over 20 years ago and someone is seeking revenge.
Rachel Hart is called in to investigate when it becomes clear that the crash was not a simple accident. Rachel has a personal conection with Maddy as they first met after Maddy's daughter attempted suicide and Rachel was visiting her twin Ruth at the facility.
This is the second book to feature Rachel Hart (the first book is Little Girl Missing) and we continue to see her character develop. In this book, she is in a fledgling relationship with a lawyer but she is holding back due to her guilt over the past and the abuse her twin suffered.
Rachel Hart is a good lead, dealing with personal and professional relationships as well as brutal police work. She is hugely likable and respected by us as readers but also by the other characters within the book.
J.G. Roberts reveals the potential murderer during the course of the book and the motive is gradually uncovered. I must admit to feeling sympathy with the murderer, whilst obviously not condoning their actions!
This was a really enjoyable follow up to the first book but would work just as well as a stand alone novel. The writing is fast paced and I liked the way the chapters followed the different characters, police and others, to build the plot development as well as draw us towards the characters emotionally. The style of narrative is easy to read and I found my reading speeding up as the book progressed as I wanted to discover the culprit!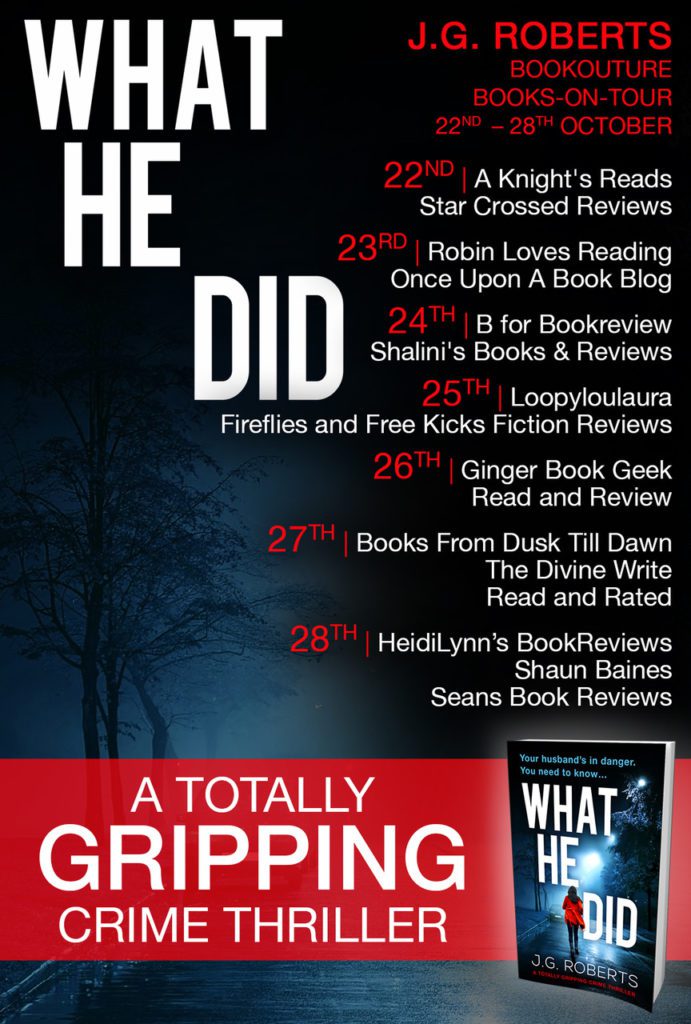 Book Description:
Your husband's car crash wasn't an accident…
Maddy Shaw learns the life-shattering news in the most horrific way: live on air. As the shaky mobile phone recording pans over the terrible crash, she recognises her husband Simon's car in the wreckage… He is critically injured, and she rushes to his side.
Detective Rachel Hart knows how it feels to have a loved one's life hanging in the balance, and hurries to support her friend. Maddy is distraught about her husband's accident, and Rachel decides to investigate. It's not her case, but if she can give her friend answers, she will. But she soon realises Simon didn't crash because he was distracted, or because a tyre blew. Someone made this happen. Someone who wants Simon dead…
After the discovery of a threatening letter, buried in Simon's diary, Maddy has to ask how well she knew her husband. Then a new victim is found – an old friend of Simon's, a man he hasn't seen in years. It seems a dark secret from their past has finally come to light… The killer has a list of targets, and they are dying one by one.
Rachel must race against time to protect her friend and find the murderer, before another life is taken. But however fast she runs, it seems the killer is always one step ahead. And Maddy must decide if she wants the truth – even if it puts her in the killer's path…
A twisty and breath-taking thriller for fans of Rachel Abbott, Cara Hunter and Angela Marsons.

Author Bio:
Julia was born in West Bridgford, Nottinghamshire, and began her career as a professional singer/dancer. This enabled her to travel the world in her late teens storing up experiences she has since included in her writing. Following roles as a hostess on The Price is Right and a member of the Beadle's About 'hit squad' in the 1980s, she became a TV Presenter and filmed features for Sky Sports before launching the QVC shopping channel in 1993 where she still presents today. Having always wanted to write, she penned her first book, a memoir sold on QVC, in 2013 and has since written four full length novels, two novellas and several short stories.
Links:
@JuliaRobertsTV