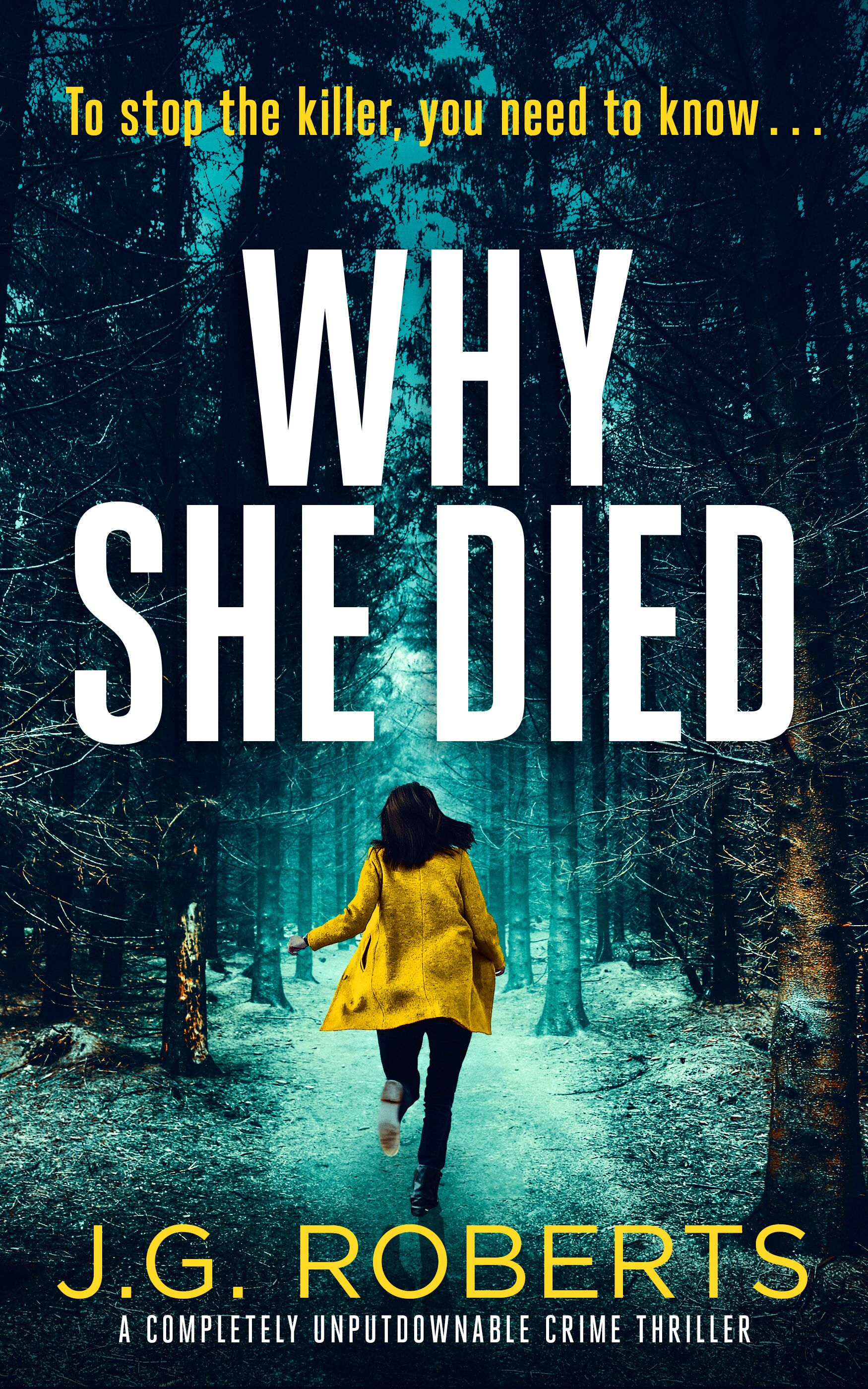 The body of a young woman is found hanging by her best friend. At first it appears to be suicide, but then murder is suspected. Could her job as a shot girl in a night club be a link? Or her boyfriend who treated her roughly? DCI Rachel Hart begins her investigation but is troubled by her own sister's disappearance: can she keep her focus when another body is found…?
We know from the previous two books in the series (Little Girl Missing and What He Did) that Rachel has a lot of issues due to her past and the abuse her twin suffered. This subplot grows in prominence over the course of the book.
The final third of the book turns everything on its head, all that we had been expecting comes crashing down. My jaw literally dropped when the huge twist happened. I'll be honest and say that I didn't find it particularly credible but it was totally engrossing and I couldn't put it down!
The narrative is fast paced to keep the sense of urgency. I really enjoy J.G. Roberts' style of writing which brings focus to the police and victim yet doesn't dwell on the dark side of humanity despite the content: this light touch makes us identify with Rachel and her team.
The police procedure element of the plot feels realistic and there isn't graphic or grisly detail to describe the bodies. Why She Died is a great title for the book as the motive to the events in the book are crucial to making sense of what happens.
I think there is enough of Rachel's backstory in this book for it to work as a standalone novel but I would recommend reading the other two books in the series.
Why She Died is an entertaining police action and psychological thriller.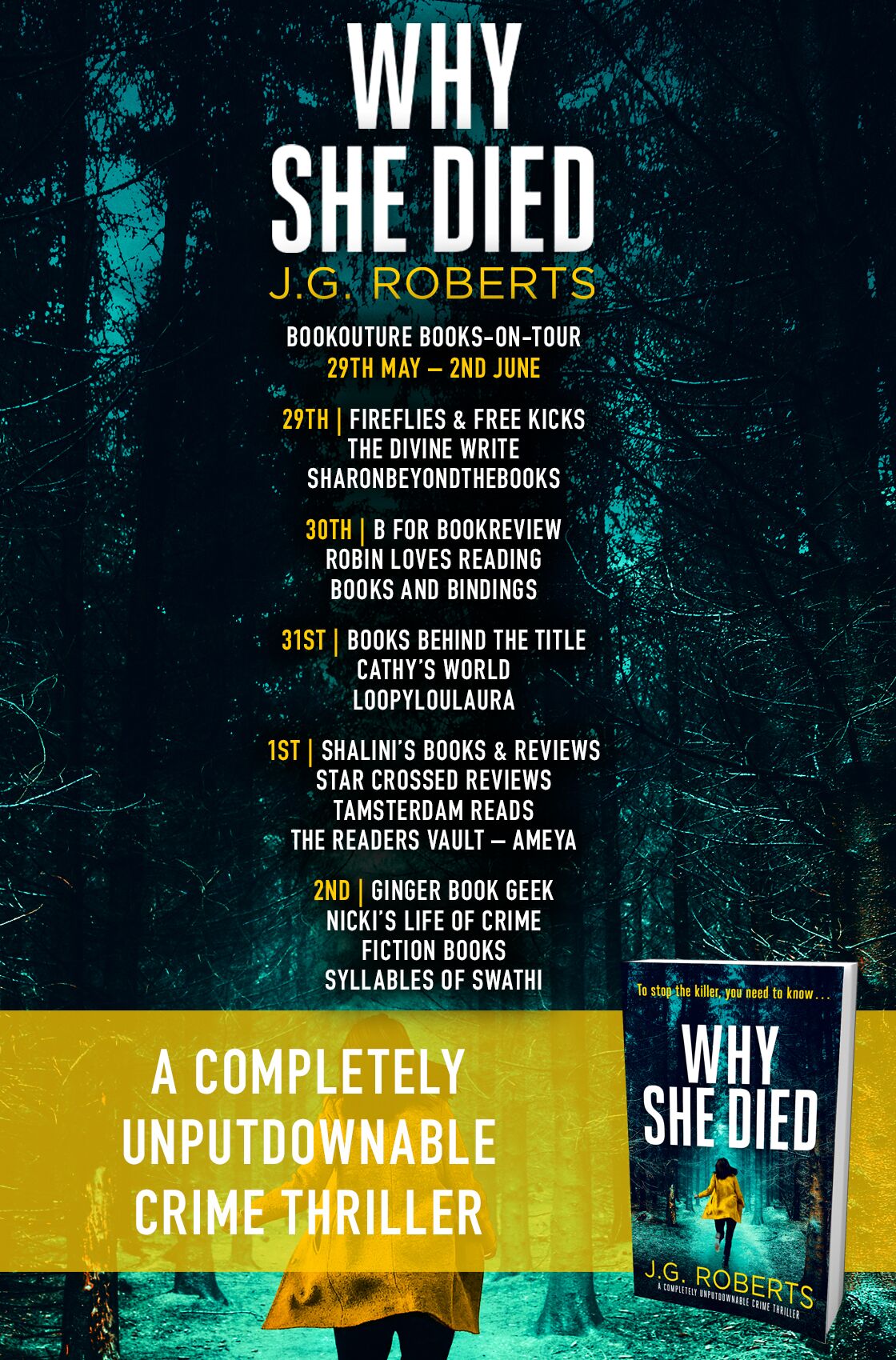 Why She Died book description:
It was a person after all, but she was suspended in mid-air. Abi's heart began to thump against her ribcage as the full horror of what she was seeing became apparent. Her shrill scream pierced the silence, startling birds into taking flight. 'Help me!' she cried. 'Somebody please help!'
When beautiful and bright Hannah is late for their morning run, her best friend Abi thinks nothing of it. Hannah isn't always that reliable – she's probably just overslept.
But as Abi runs through the woods, following the same route she always does, she is greeted by a horrifying sight: Hannah's body, swaying in the breeze.
Detective Rachel Hart is called to the scene. Something seems wrong from the start. Hannah's friends and family insist that she had everything to live for, and no one has a bad word to say about her. But when murder is confirmed, and Rachel starts digging, she soon realises that there were plenty of people with reasons to want Hannah dead.
Then a second woman is found strangled in the same woods, and everything Rachel thought is thrown into doubt. Is there a serial killer at work?
Rachel is determined to find answers before another life is lost – all the time unaware that the killer's sights are focussed firmly on her.
Can Rachel unravel the deadly game before she walks into a trap?
A breathtakingly twisty thriller for fans of Rachel Abbott, Cara Hunter and Angela Marsons.

Author Bio:
Having signed with Bookouture in late 2018, my first book with them, Little Girl Missing, was published in June 2019 followed by the second in the Detective Rachel Hart series in October of the same year. The third book in the series, my seventh novel overall, is called Why She Died and is on pre-order prior to publication in May 2020.
I'm originally from Nottingham, where I have based a couple of my novels, but I am now resident in Berkshire and have used Reading and the surrounding area as the location for the DCI Rachel Hart series.
From the age of ten I had wanted to write fiction but left it until I was fifty-seven before self-publishing my first novel, Life's a Beach and Then, proving it's never too late to start something new.
When I'm not writing, I am a full-time presenter on QVC, the UK's most successful shopping channel where I have worked for over twenty-six years. I also enjoy cooking, watching football, in particular my team Crystal Palace, gardening, and Pilates which is helping with my rehabilitation following recent ankle surgery. I'm an animal lover and a committed vegetarian for the past thirty-five years.
@JuliaRobertsTV
Buy Links: