This Saturday we decided to head out and about before we went to a friend's party in Didcot. We joined English Heritage earlier this year so used their guide book to choose some suitable places on the way. We would also be taking Ollie the collie with us so it had to be places that would allow dogs on leads.
First we headed to Donnington Castle near Newbury, about 50 minutes from home. The scene was stunning, helped by the gorgeous weather!

Time to head back towards the car park, surrounded by lush countryside!
We then had to decide what to do for lunch. Chris had seen a country park on the map so we decided to head there with our picnic.
It was fab and a truly difficult decision whether to stay and explore the woods or carry on to somewhere else but we packed up and went to see the White Horse at Uffington, another 40 minute drive away.
We drove through beautiful countryside although Zach slept through it all!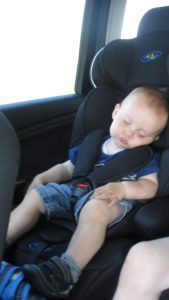 The only negative part of our day was the car park. We are English Heritage members but the White Horse is managed by the National Trust and the car park instructions were ambiguous as it said that NT members get free parking but didn't mention EH… We paid but I was a bit grumpy 🙁
You can't get too close to the White Horse and the best view was actually from the road on the way there/back. However it was a lovely walk, if a little hot! The children were traumatised by all the poo and I was scared by the sheep! (remember I don't like

animals

…

?)
The view from the top was stunning and then we meandered back towards the car, having an ice cream in the car park and a huge bowl of water for Ollie.
Time to party! This is the third year I have been invited to Chris' friends' Mexicue (a barbeque with a Mexican theme, obviously). The food is always amazing and these are the same friends who were so thoughtful at

Zach's birthday

to bring vegetarian and wheat free puddings especially for me.
We all ate so much and had a wonderful time. The bottom of the garden had been turned into a haven for the children and they tried food they'd never had before.
So we got the kids into their PJs and bundled into the car. The journey home at dusk was lovely and on the horizon we could see hot air balloons which the kids loved.

We arrived home exhausted but happy after our fab day! 🙂