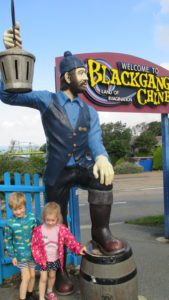 Well this trip can be summed up by Matthew's announcement at 10.30 (half an hour in) that this is the best place EVER!
We arrived as it opened and headed straight for Area 5, the dinosaurs. It was amazing. Hidden speakers projected animal sound and the animatronic dinosaurs were fascinating. The dilophosaurus is my particular favourite as I remember it fondly from the original Jurassic Park film. The one at Blackgang spits water!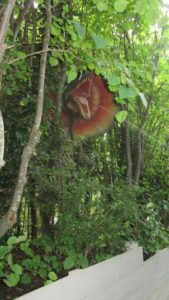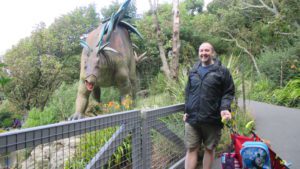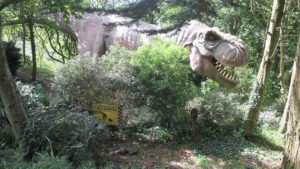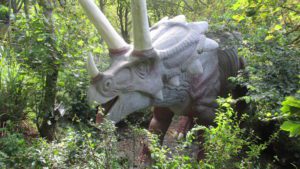 Some dinosaurs that I remember from my first visit 25 years ago were still there for the children to climb on but the difference in quality was extraordinary.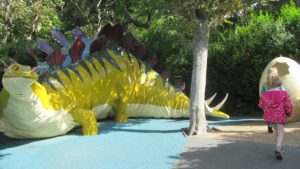 There were humorous signs dotted around and it was made to feel like a zoo for dinos which the kids enjoyed. The T Rex was quite intimidating and a little frightening but the kids coped well.
Next we went past giant bugs and butterflies and visited the Crooked House. I felt quite seasick as the floor are all tilted but the kids adored ot and went through several times by themselves. We all had a play on the pirate ships complete with water cannon!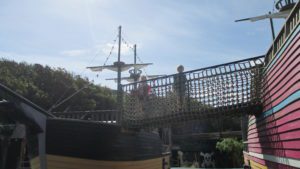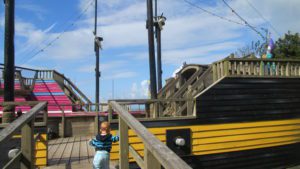 Underwater Kingdom was the next section of the park. My favourite bit was walking under the full sized replica of the blue whale as whale noises echoed from speakers around us.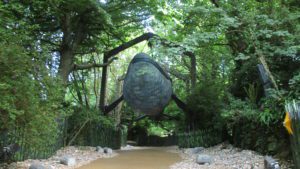 Snack time! Everyone else had ice cream but I indulged in a gluten free chocolate brownie, yay!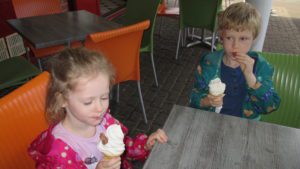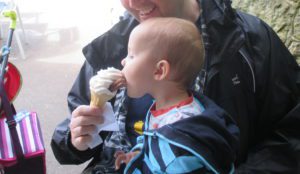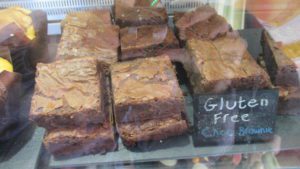 Rumpus mansion was a beautiful old house taken over by goblins etc! Matthew hated this place: it was dark and the animatronics and dioramas were a bit creepy.
A bit of fun at Hell's Mouth! My sister and I did the same thing on our visit 25 years ago (Mum has been nagged to dig out the pic…)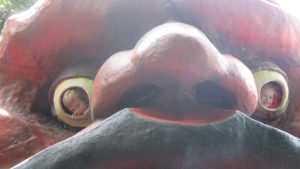 Cowboy Town is a wild west town. Most of the place is deserted which is a little disappointing but the kids love exploring and climbing so didn't notice the empty buildings. We sat down for our lunch here, adding some delicious veggie chilli nachos and chips to our picnic 🙂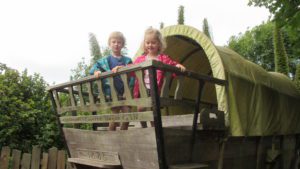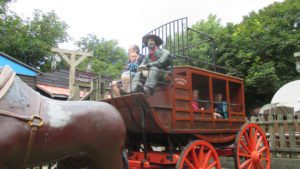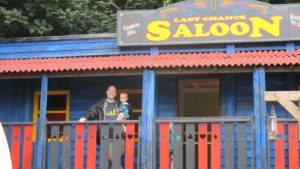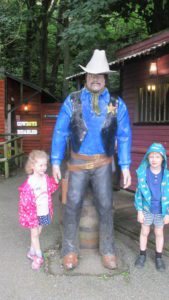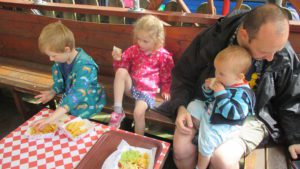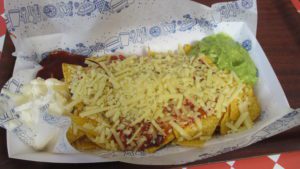 After lunch we all played a giant game of snakes and ladders before heading to a dinosaur show.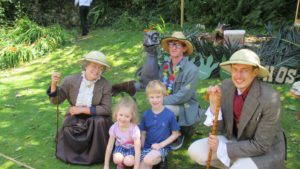 Then we wandered around the maze and managed to get out in time to get to the toilet! Next up was NurseryLand where many popular nursery rhymes have scenes with the songs playing for children to join in with.
Are you brave enough to run through a whale? We were! But be warned it gets very wet in there!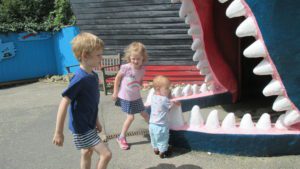 We went around a museum that included a whale skull which was fascinating having walked under the replica and run through one! There was also a hall of mirrors which provided plenty of entertainment for our exhausted kids 😀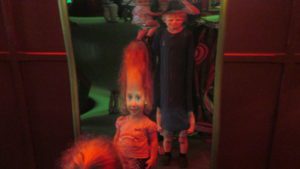 Finally we headed back through the dinosaurs for one last look round before collapsing in the car and going back to the Carthouse for the evening.