Now Chris is back at work, I feel like Christmas is over even though the decorations are still up and the kids are still home 🙁
We are still finishing off the festive food and shops are selling some at a reduced price so here is what I have loved eating this Christmas!
Let's start with crisps. Now you may know that I adore crisps and was thrilled to find some festive flavours. Several of them though were not suitable for vegetarians so I couldn't have them 🙁 These are the ones we tried and loved:
The Aldi Christmas tree tortillas were delicious and the flavour was really like a Christmas dinner, mainly stuffing! The other crisps were also delicious but the flavours were more subtle and creamy due to the cheeses.
I have written about

mince pies

previously but these are the iced version from Sainsburys which I hadn't tried at the time of that post. These were much better than Sainsburys plain gluten free mince pies. The icing made the pie taste much moister and the glittery gold on top was a lovely extra detail.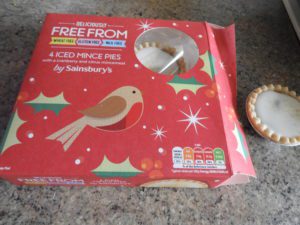 Sweet treats! These popcorn thins were actually in my Blogosphere goody bag and I was very reluctant to share them with the kids! We all loved them! A great snack for adults and kids, vegetarian and gluten free!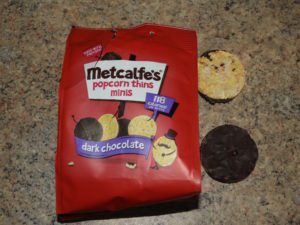 Ready meals and party canapes are up next:
Tesco have had a revamp of their vegetarian fresh and frozen so I tried these 2 aubergine bakes. The frozen one with the lentils was perfect for a winter's day and the flavours were strong and rich. The Bombay potato nests were fab, great for parties or a quick snack.
Finally, time for a tipple! I tried the chocolate liqueur from Aldi. It is really chocolatey and I'm quite enjoying it but I don't think it would be pleasant to have more than 1 glass as it is so rich. Next year I think I will stick with their normal Irish cream.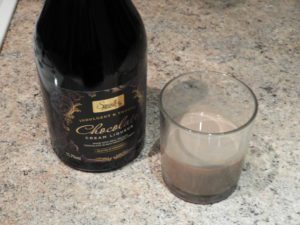 One last look at my Christmas dinner before I forget about Christmas for another year! The Yorkshire puds were the Tesco Free From ones and they were just perfect. The Quorn roast was succulent and I love the flavour of the herbs in it. This year Paxo has brought out a gluten free stuffing which made me soooo happy! Bisto have a gluten free vegetarian gravy, yum!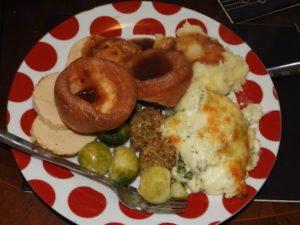 Have you tried any new food this holiday? Let me know!